Japan will scrap tariffs on 7,220 Vietnamese products and Vietnam on 2,586 Japanese goods when the Vietnam-Japan Economic Partnership Agreement (VJEPA) comes into effect on October 1.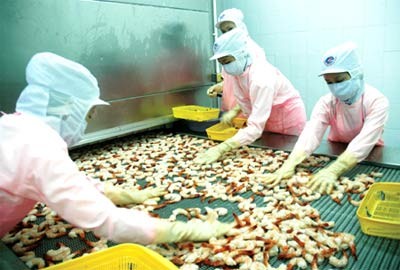 Workers process shrimps for export at Minh Phu Seafood Corporaton. The 1-2 percent tariff Japan imposes on shrimp imports from Vietnam will be abolished on October 1 under the Vietnam-Japan Economic Partnership Agreement.
Vietnamese exports like agricultural and aquatic produce and garments, mechanical products, electrical cables, computers, and furniture will become exempt under the VJEPA.
In the reverse direction, industrial products like automotive spare parts and electronics will see import duties scrapped or reduced.
On other agricultural products, Japan will gradually eliminate tariffs: the 6 percent tax on frozen cabbage and 3 percent tax on pimento chili will go in five years, the 6 percent and 3.6 percent tariffs on sweet maize and curry spices will be eliminated in seven, and the 10 percent and 17 percent taxes on roasted coffee and green tea will go in 15.
In the next five years tariffs on natural bee honey will be cut from 25.5 percent to 12.8 percent and on tomato sauce halved from 17 percent.
For the forestry field (except plywood), the current tariffs from 0 to 6 percent will be taken off in 10 years. For seafood products, the 1-2 percent tariff imposed on shrimp will be abolished on October 1, and the 5 percent tax on frozen poulps will be eliminated in five years.
Around 92 percent of all goods traded between the two countries will become exempt from import duties within the next 10 years.
 
Many Vietnamese goods entering Japan have already been enjoying preferential duties since December 1, 2008, under the ASEAN-Japan Comprehensive Partnership Agreement (AJCEP).
 
Once the VJEPA becomes effective, Vietnamese exporters can choose tariffs under it, AJCEP, or Most Favored Nation status.
 
Vietnam's key exports to Japan now are seafood, apparel, and footwear.
 
Bilateral trade was over US$16 billion in 2008, much higher than the target of $15 billion set by the two countries for 2010.
 
It is estimated to top $18 billion in 2010.