Japanese Minister of Agriculture, Forestry and Fisheries Hayashi Yoshimasa on Wednesday said that they were collecting opinions on imports of Vietnamese fresh mangos.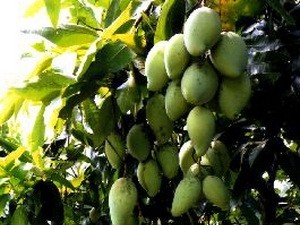 Hoa Loc sweet mango in the Mekong Delta (Photo: VNA)
He was speaking at the second submit on agricultural cooperation between Vietnam and Japan hosted by the Vietnamese Ministry of Agriculture and Rural Development in Hanoi.
Mr. Yoshimasa also proposed Vietnam to facilitate imports of Japanese pork, beef and poultry. Their fresh apple is expected to be shipped to the Southeast Asian nation in September, he added.
Besides mango, Minister of Agriculture and Rural Development Cao Duc Phat suggested Japan to plan for trade promotion and import open doors to red flesh dragon fruit and fresh litchi. Previously, he said that Japan was considering Vietnam's proposal to import litchi.