Japan's Riviera Corporation and CSK Finance Company won approval from the Ha Noi People's Committee yesterday to build an office block and five-star hotel in Tu Liem District.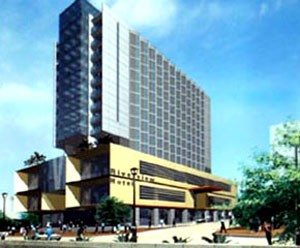 Ha Noi will have more five-star hotels
The US$500-million property will feature offices for lease, 550 guest rooms and a shopping center.
 
The Japanese consortium intends to start construction by September and complete the project by June 2010, which will be in time for the thousandth anniversary of the founding of Thang Long-Ha Noi.
 
Ha Noi chairman Nguyen Quoc Trieu also signed a memorandum of understanding with Riviera-CSK, which represents a group of Japanese organizations, on three more projects capitalized at US$500 million all up.
 
One of these is offices and upmarket housing on a 21-hectare area in Kim Chung, a village in Kim No Commune, Dong Anh District.
 
The other two are combined golf courses and entertainment areas, one taking up 80 hectares of Xuan Thu Commune, Soc Son District and the other covering more than 300 hectares of Ta Thanh Oai Commune, Thanh Tri District.
 
Riviera and CSK Finance are members of the Kanagawa-Vietnam Economic Exchange Association, which was established by companies in Kanagawa Province in 1992 to promote investment in Viet Nam and trade with Vietnamese companies.
 
While they were at city hall, the representatives of the Japanese consortium pledged to donate $5.5 million to the city for funding social development projects and charity work.