Japanese financers and bankers consider Viet Nam as the most attractive place for indirect investment among developing economies, affirmed a senior officer of a Tokyo-based global investment bank.
Taro Hayashi, Managing Director of Nikko Citygroup was speaking at a seminar on investment environment and opportunities in Viet Nam after the country's accession to the World Trade Organization held by the Vietnamese Embassy in Tokyo on Jan. 25.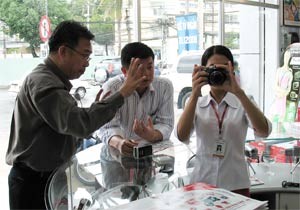 Customers try a Canon digital camera before buying at a shop in Ho Chi Minh City. Japanese manufacturer Canon has invested big bucks in Viet Nam. (Photo: Tuong Thuy)
Hayashi told representatives of Japanese financial institutions, banks, insurance corporations and investment funds at the seminar that the fine development of relations between Japan and Viet Nam has opened unprecedented cooperation opportunities for his country's investors.
He said Japan has a large amount of individual savings that are untapped and await investment opportunities, as his wholesale investment bank is going to lead a delegation combining representatives of a number of Japanese corporations to Ho Chi Minh City – Viet Nam's southern economic hub - to seek for cooperation and business opportunities.
Vietnamese Ambassador to Japan Chu Tuan Cap introduced Japanese businesspeople of the nation's socio-economic development direction in 2007 as well as development plans until 2010 and 2020.
"Japanese investors will see Viet Nam as a very favorable environment, both politically and economically, to invest and to do business," stressed the ambassador.
Ambassador Chu Tuan Cap also took this occasion to answer various questions raised by Japanese participants concerning Viet Nam's policies on foreign indirect investment flow and measures to ride the investment wave from Japan, as well as difficulties in the country's equitization process, weak competitiveness of Vietnamese enterprises and issues relating to at Viet Nam's securities market.
Japanese corporate representatives at the seminar proposed that Viet Nam should increase the number of companies listed at the securities market, particularly big corporations, in order to provide a larger source of supply.
They also wanted Viet Nam to encourage its enterprises to open websites in English to make it easier for foreign investors to access, while some of them expressed the wish that Viet Nam continues to maintain political stability to facilitate long-term investment in the country.