Jetstar Pacific Airlines lost US$10.7 million in the first six months of 2008, hemorrhaging nearly $2 million a month.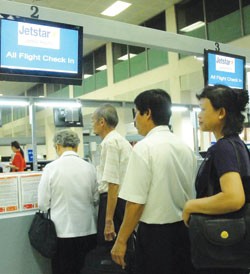 The total loss of Jetstar Pacific Airline over the first eight months of 2008 is expeted to be $50 million. (Photo: Thanh Nien)
The airlines' total loss over the first eight months of the year is expected to be $50 million, according to a report from State Capital Investment Corporation (SCIC), which holds a 75.78 percent stake in Jetstar Pacific Airlines.
The airline's losses were mainly caused by skyrocketing fuel prices and fluctuations in the VND/USD exchange rate, according to the report submitted to Prime Minister Nguyen Tan Dung. Jetstar Pacific's revenue is 100 percent Vietnam dong, while more than 80 percent of its expenditure is in US dollars.
Other costs also increased, including airport fees. Transferring the branding to Jetstar Pacific Airlines from Pacific Airlines also proved costly, the report said.
Jetstar Pacific's aircraft were between 70 and 90 percent full in the first half of this year but the airline was still losing money on every flight, the report said.
SCIC recommended the PM direct related organizations to help the airline use its land more effectively, such as leasing it to other parties.
The government was also asked to ensure refueling services were provided at fair and competitive rates.
Jetstar Pacific will need an investment of between $30 million and $35 million next year, SCIC said.
SCIC asked the PM to endorse a plan to restructure the airline's finances and sell shares to other investors.
The State Capital Investment Corporation also recommended the prime minister allow Australian flag carrier Qantas to increase its stake in Jetstar Pacific from 18 percent to 49 percent.