The Filipino fast food chain Jollibee has re-opened a major outlet in its Vietnam 10-eatery chain, and is working to launch four more in the country this year.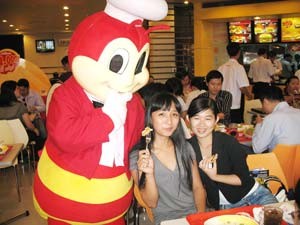 Customers pose for picture with the Jollibee mascot at the Jollibee eatery at Superbowl on March 19 (Photo: Tuong Thuy)
"Four more retail outlets are slated to be opened in malls in other parts of Vietnam this year," Dennis Flores, Jollibee's vice president for international operations, said at the March 19 re-opening of the Jollibee outlet at the Superbowl mall near the airport in Ho Chi Minh City.
This comeback, which came after a period of refurbishment, coincides with a promotion that offers a set meal at a price of VND22,000 (about US$1.25).
The Filipino group opened the eatery as its first in Vietnam in 1996, and currently operates nine in the city. Last October, Jollibee opened a branch in Bien Hoa City, Dong Nai Province, the first store outside Ho Chi Minh City, which borders the province.
Eight of the 10 are run by the company, and the two others are franchised outlets. Jollibee Vietnam says it expects more franchise contracts.
Vietnam has been a key market for Jollibee's global operations, Flores said, adding that of his group's total revenue in the Asia-Pacific region and the Middle East, 15% comes from Vietnam.
Flores said, "Perhaps, Jollibee's strong appeal to families resonated well with the Vietnamese who, like Filipinos, also value strong family ties. We now see a lot of Vietnamese families going out on weekends, spending time together and celebrating fun times also in fast food joints."
Jollibee Vietnam general manager Jojo Subido said, "Jollibee has steadily attracted Vietnamese families as evidenced by the growing number of family dining in and placing delivery orders. We have been providing quality food in the country for 12 years now and we look forward to continuing doing so for more years to come.
In Vietnam, Jollibee also runs a workshop that caters its stores and is responsible for production of main products and ingredients.