The Filipino fast food chain Jollibee will expand operations in Vietnam, where it currently has 10 stores.

"Four more retail outlets are slated to be opened in malls in other parts of Vietnam this year," said Dennis Flores, Jollibee's vice president for international operations.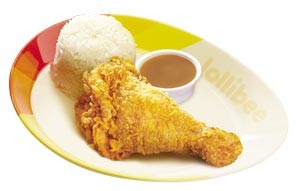 Chickenjoy chicken rice, a main dish of Jollibee
In October 1996, the Filipino group opened its first Vietnam store at the Superbowl mall in Ho Chi Minh City. Now, it operates nine in the city. Last October, Jollibee opened a branch in Bien Hoa City, Dong Nai Province, the first store outside Ho Chi Minh City, which borders the province.

Flores said, "Perhaps, Jollibee's strong appeal to families resonated well with the Vietnamese who, like Filipinos, also value strong family ties. We now see a lot of Vietnamese families going out on weekends, spending time together and celebrating fun times also in fast food joints."

According to him, Vietnam has been a key market for JFC's global operations.

"Jollibee in Vietnam is run mainly by Vietnamese employees – from front liners to store managers. This is the only country aside from China and Brunei where Jollibee caters to the mainstream, non-English speaking markets," Flores added.

Jollibee Vietnam has its own facility that caters the stores and is responsible for production of main products and ingredients.

Flores said that of Jollibee's total revenue in the Asia-Pacific region and the Middle East, 15% comes from Vietnam.