With the price of bear bile gradually falling from VND200,000 per cubic centimeter to the present VND15,000-20,000 cubic centimeter, thousands of bears are currently being kept just like pigs, as they no longer seem profitable.
Over the past ten years, Phung Thuong Village and Phuc Tho Town in Hanoi City became famous for keeping bears for bear bile. Earlier, these places were swarmed with visitors who wanted to buy bear bile but now are poorly patronized.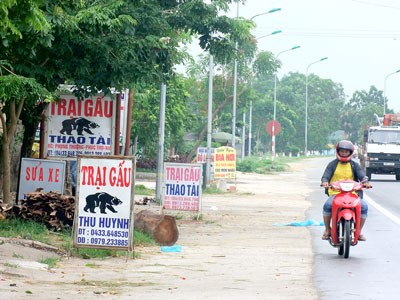 Signboards of bear farms in a street in Phung Thuong Village.(Photo: SGGP)
According to the owner of D.L Bear Farm in Phung Thuong Village, the price for a cubic centimeter of bear bile now is VND20,000, much cheaper than during the period 2000-2003 when the price soared upto VND200,000 per cubic centimeter and breeders still did not have enough bile to sell, calling for customers to place orders weeks or months in advance. At that time, although the cost to buy a bear was around VND60-80 million, breeders could easily reclaim their investment within a year.
At An Canh Bear Farm in Phuc Tho Town, where nearly 30 bears are held captive in a warehouse in front of the house, a cubic centimeter of bear bile was offered at VND20,000 but if the customer bargains for VND15,000 per cubic centimeter, the seller still agrees to sell.
A farmer in Phung Thuong Village revealed that a bear consumes 5-6 kilograms of ground corn, rice, and mung beans, and other side food a day, all costing VND30,000 per day. With other expenditures, breeders have to spend about VND1 million for a bear.
Bear bile can be extracted twice a year with each gallbladder giving an average of 200 cubic centimeters of bile; some bears only give 70 cubic centimeters of bile due to poor keeping conditions. Thus, all breeders suffer losses now, as they only collect VND4 million in six months with the price of bear bile at VND20,000 per cubic centimeter.
In the past, each bear farm in Phung Thuong and Phuc Tho held at least four to five bears, some even kept tens of bears. However, when the price of bear bile slumped, they had to transfer their bears to Vietnam Bear Rescue Center or to other breeders. Currently, most breeders only keep two to four bears to get by.
In 2008, several bears were reported missing when forest rangers inspected Phung Thuong Village. However, inspectors said that the bears were not stolen but sold to restaurants in Ha Long City in Quang Ninh Province for slaughter. Many bears were also declared 'sick' or 'dead' to forest rangers.
According to Le Van Hung, Deputy Head of Dan Phuong Forest Ranger Country, in 1990 there were eight bear farmers in Phuc Tho Town with 100 bears. By 2005, when illegal bear bile trading brought high profits, the number of bear farms in the area rose to 59 with 325 bears. However, by April this year, there were only 37 bear farms left with 257 bears, as bears were dead or moved to other places.
The current law still prohibits extracting and trading in bear bile and violators might face a seven-year jail sentence. However, as farmers had spent a great sum of money to buy bears and build breeding facilities, they still stealthily extracted bear bile to earn money.
Many farmers said that keeping bears is no longer profitable. Although they want to liquidate their bears, it is impossible as all bears are attached with tracking chips by rangers. Farmers are now asking to hand over bears to the government with the condition that the government supports them and cover costs incurred on the bears. If farmers continue to raise bears in such conditions, bears will soon be extinct.
According to PhD Tuan Bendixsen, a Vietnamese Australian - Director of Vietnam Bear Rescue Center, the numbers of bears in the Center have rapidly increased and now are more than 100, of which, some were received from bear farms.
At present, the center has discussed with the Ministry of Agriculture and Rural Development on rescuing more bears. However, with the current high expenditure on raising bears, the center cannot take thousands of bears from bear farms at once.