Kentucky Fried Chicken, the only U.S. fast-food chain in Viet Nam, plans to open its first outlet in Hanoi by the end of June, said KFC Vietnam marketing manager Le Van Dut. He added other restaurants may follow by the year's end, depending on the response.
KFC Vietnam opened its first restaurant in Viet Nam in the southern economic hub of Ho Chi Minh City in 1997. Now, it operates 21 outlets in the south and plans to add more in other parts of the country, said KFC Vietnam country manager Pornchai Thuratum.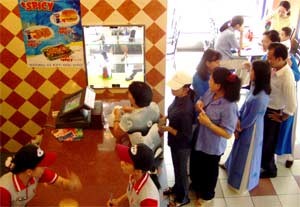 Customers queue to buy fast food inside a KFC restaurant in Ho Chi Minh City (Photo: Tuong Thuy)
Mr. Thuratum added that Ha Noi is his company's first target in the north and KFC will expand to cities and provinces around the capital.
KFC's competitors in Viet Nam is Philippine fast-food chain Jollibee and Lotteria, a big hamburger franchise based in Japan.
In an interview with the Thoi Bao Kinh Te Sai Gon (Saigon Economic Times) weekly, Mr. Thuratum said KFC Vietnam in 2005 posted sales growth of around 80%, quite optimistic under the circumstance of an outbreak of bird flu. He said Viet Nam offers much potential for not only fast food chains but also other franchises.
Mr. Thuratum said KFC Vietnam expects to raise its outlet number to 100 in the next four years, and the number is to increase by 10 times over the current by 2014.
Viet Nam has domestic chains such as Pho 24, specializing in the popular Vietnamese noodle soup pho, and the Trung Nguyen coffee chain.