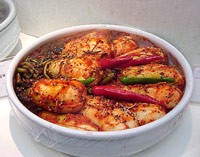 Kimch'i-the most famous Korean food
Recently, some scientific sources have been quoted that Kimch'i can prevent bird flu, and as a result, consumption of this kind of Korean food has increased markedly.

Last month alone, about 5 tons of Kimch'i is snapped up in the domestic market, according to a representative of Hiep Nguyen – Da Lat Cooperative, the supplier of Kimch'i for the supermarket chain of Co.opmart.

Hiep Nguyen is also the first cooperative to make and export 13 to 15 tons of Kimch'i per month to Korea. This is good news for vegetable farmers in Da Lat,
where cabbage, the main material to make Kimch'I, is supplied.