Japan's Kobe Steel Company said Friday it had received an investment license from Vietnam to build four iron making plants costing some 100 billion yen (over US$1 billion) to tap increasing demand.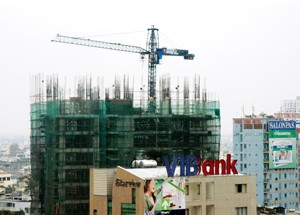 A high-rise under construction in Ho Chi Minh City's District 1. Japan's Kobe Steel plans to build a US$1 billion mill in Vietnam to tap growing demand for steel. (Photo: Thuy Nguyen)
The fourth-biggest steelmaker of Japan said it got the license on Mar. 31 and would set up a wholly owned unit in Vietnam this month to carry out the project, located in Hoang Mai Industrial Zone, the central province of Nghe An.

The unit will be named Kobelco Iron Nugget Vietnam Limited Liability Company. It will produce and market iron nuggets using the next-generation ITmk3® iron making process that Kobe Steel developed, the Japanese steelmaker said.

In two phases, Kobe Steel plans to build the four plants with a total capacity of 2.4 million tons (600,000 tons x 4 units) per year, with two plants in phase one and two in phase two.
According to Kobe Steel, plans call for the early establishment of the locally incorporated company through which the project can be carried out. A detailed feasibility study will be conducted, aiming for first-phase construction to begin in January 2011.
Kobe Steel said the products would be sold in Vietnam and overseas markets.
Vietnam forecasts that domestic steel demand will continue to grow in the future. Currently, Vietnam is largely dependent on importing scrap and semi-finished steel products to meet its iron unit requirements.
Kobe Steel said as the ITmk3® Process can produce high-grade iron units from Vietnam's iron ore and coal, Vietnam has high expectations for the ITmk3® project.
Friday's Kobe Steel statement said Vietnam's iron ore from the Thach Khe mine contains a relatively high amount of iron. However, it also contains much zinc, which makes it difficult to use in blast furnaces. The ITmk3® Process will enable Vietnam to make effective use of its mineral resources, and the use of relatively inexpensive raw materials will help improve the profitability of the project.
The steelmaker has said it also plans to build nugget plants using ITmk3 technology in countries like India, Russia and Australia.