Though gold trading floors have mushroomed in Vietnam, the Government has yet to set up a regulatory agency to oversee them and protect investors from risks.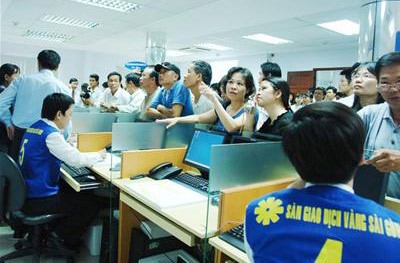 A gold trading floor in Ho Chi Minh City
The first trading floor opened in 2007 and more than 20 others have been set up since, with thousands of investors trading gold.

Despite charging a fee of just VND2,000 per tael (37.5 grams) of gold, floors earn billions of dong daily, not to mention other earnings like loan interest.

To attract investors, they compete to offer the best terms.

In the past investors had to maintain a margin of 7 percent on their transaction values and the minimum trading quantity was 50 taels.

But now some floors have reduced the margin to as low as 1 percent and the minimum volume to five taels.

Relaxing these norms quickly sent some floors into bankruptcy.

Analysts said this is to be expected since there are many risks involved in running these floors since clear operating regulations are not in place yet and most of the operators are unlicensed.

Furthermore, no agency has been set up to regulate their activities or protect investors from systemic risks, they added.

The Governor of the central bank has admitted that the lack of a regulatory agency is a shortcoming.

The Prime Minister has criticized the bank for its poor oversight of gold floors and ordered relevant ministries and agencies to monitor their activities.

Central bank's tardiness

Following a directive from the Government last January, the State Bank of Vietnam set up a committee to create a regulatory regime for gold floors.

However, despite creating 11 drafts, the task has yet to be completed.

In its last draft, the committee suggested that only commercial banks should be allowed to operate gold floors and that the margin should be 10 percent.

Huynh Trung Khanh, an advisor to the World Gold Council and vice president of the Vietnam Gold Trading Association, said it is reasonable to allow only banks to run gold floors since their liquidity position is better than others' and risks are lower since banks have to report their transactions to the central bank on a daily basis.

But the draft has not been approved yet.

With gold floors becoming more and more ragged and investors putting pressure on it, the central bank has made two different recommendations to the Government -- close down all gold floors since they are not indispensable or raise the margin to 100 percent.

Analysts panned both proposals as being too extreme.

Some pointed out that gold floors have become so popular that if they are closed, some investors could take their money to international exchanges, shutting off a lucrative source of revenue for the Government in the form of taxes.