A working session about agricultural and biotechnological development, between delegations from Lam Dong Province and the Belgian province of East Flanders, was held in Lam Dong October 2.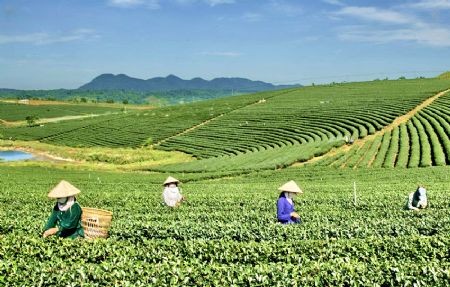 Tea plants cover over 25,500 ha of hills in Lam Dong Province.
During the working session, the chairman of the province's People's Committee, Huynh Duc Hoa, talked with the Belgian ambassador, Hubert Cooreman, and other delegates about cooperation between the east Belgian province and Lam Dong in agricultural economic and biotechnology development.
Mr  Hoa introduced potential and strong points in agricultural produce of the province, as well as advantageous conditions to develop high-tech agricultural zones for flowers vegetables, fruit, tea, coffee and fish.
According to a plan, province of east Flanders will invest in biotechnology in agricultural produce in Dalat to improve produce quality and effective production step-by-step.

Despite the global economic recession, the province has achieved a GDP growth of 10.7 percent which is expected to rise to 12 percent by the end of this year.

It has generated more than 10,000 new jobs, reducing the rate of poor households to ten percent.
In another development, Lam Dong has established commercial farming areas specializing in flowers for export, high-quality vegetables, dairy cows and coldwater fish, earning between VND500 million and VND2 billion per hectare per year.