President Truong Tan Sang yesterday met with an astronaut who worked for the former Soviet Union, Viktor Vasilyevich Gorbatko. Gorbatko and Vietnamese astronaut Pham Tuan flew to space together 35 years ago.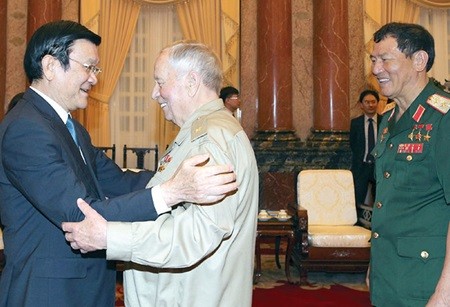 President Truong Tan Sang meets with an astronaut from the former Soviet Union, Viktor Vasilyevich Gorbatko, in Ha Noi yesterday. — VNA/VNS Photo Nguyen Khang
The State leader said Gorbatko's visit coincided with Viet Nam's 70th National Day and the 35th anniversary of the Viet Nam-Soviet Union flight into space.
Highlighting the traditional amity and co-operation between Viet Nam and Russia for more than 50 years, he said Viet Nam appreciated the whole-hearted assistance the Soviet Union gave the country during its fight for national liberation. Viet Nam also appreciated Russia's current development assistance.
Sang said the trip made by Gorbatko and Pham Tuan 35 years ago was Viet Nam's first flight to space and marked a milestone in the development of Viet Nam and Russia's friendship. He added that the flight laid the foundation for Viet Nam's space collaboration. He asked Russian scientists to help their Vietnamese peers access space studies for peaceful purposes.
At the meeting in Ha Noi, Gorbatko described his trip into space with Pham Tuan as an unforgettable memory.
He said he always remembered the warm sentiments Vietnamese people gave him whenever he visited their country.
The cosmonaut said his current visit would contribute to co-operation on space research between the two nations.
Police praised
Also yesterday, the Ministry of Public Security honoured revolutionary devotees working on police forces at a meeting in Ha Noi yesterday.
The 314 participants represented tens of thousands of war invalids, martyr relatives and revolutionary devotees who served in the police. State President Truong Tan Sang was also present.
At the function, President Truong Tan Sang praised the sector's efforts and highlighted the enormous contributions made by the devotees and their relatives.
He stressed that the Vietnamese Party, State and people would always remember their great sacrifices and work to live up to the examples they set.
The meeting was organised on the 68th War Invalids and Martyrs Day (July 27), the 70th National Day (September 2) and the 70th founding anniversary of the People's Police forces.