Within the next three years, the Vung Ang Economic Zone in the north central province of Ha Tinh--among the five largest in the country--will need about 67,000 more employees, with only 12,000 working there as of now.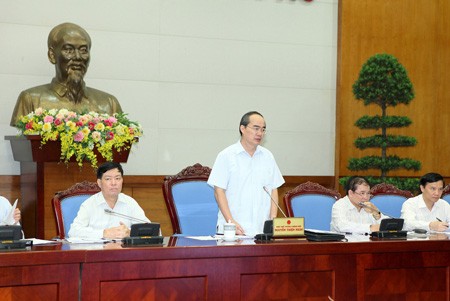 Dep. PM Nguyen Thien Nhan emphasizes more human resource training for Vung Ang Economic Zone at a conference in Hanoi on July 11 (Photo: VPG)
This was announced by the Ministry of Labor, Invalids and Social Affairs and the People's Committee of Ha Tinh Province, at an online conference chaired by Deputy Prime Minister Nguyen Thien Nhan in Hanoi on July 11.
The conference was held to discuss future human resource training for the Vung Ang Economic Zone.
According to Nguyen Thien, Deputy Chairman of the provincial People's Committee, 226 projects were licensed for Vung Ang EZ till June 30 this year.
Twenty six of them, including four foreign invested projects, have come into full operation. The remaining 28 projects, including 14 of foreign companies, are under implementation.
 
According to estimations made by the Ministry of Education and Training, the Ministry of Labor, Invalids and Social Affairs and Ha Tinh Province, the Vung Ang EZ will need at least 67,000 more employees by 2015.
Bui Van Ga, Deputy Minister of Education and Training, said that three universities in the north central region were tasked to train about 1,200 students for Vung Ang EZ in 2012. However, they were able to recruit only 14 students.
The Ministry is continuing to seek the help of three schools to train another 1,200 students for the EZ this year.
However Nguyen Dinh Toan, Deputy Minister of Construction, said that it will be very difficult to attract students. This is because investors of the projects at the IZ have neither ensured the recruitment of graduates nor specified the salary grades.