About 300 companies from 20 countries and territories are displaying modern technologies, machines and materials in garment and textile at an international exhibition in Ho Chi Minh City on April 14-17.
The annual trade fair is a leading event of the garment and textile industry in Vietnam. The four-day expo is running at the HCM City International Exhibition and Convention Center in Tan Binh District.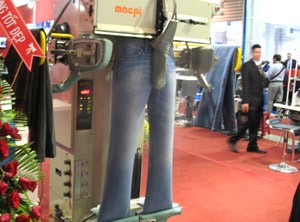 A Macpi jeans ironing and shaping system on display at the exhibition. Macpi is a well-known ironing brand.(Photo: Tuong Thuy)
The exhibitors include manufacturers from China, France, Germany, Hong Kong, India, Italy, Japan, Korea, Sweden, Switzerland, Thailand, Turkey, the UK and Vietnam.
The exhibition is expected to help garment and textile companies in Vietnam approach to more international sources, access advanced technologies to help the sector integrate better into the global economy.
The event is co-organized by the Vietnam National Textile and Garment Group, VietCham Expo (the exhibition service company under the Vietnam Chamber of Commerce and Industry), and the Hong Kong company CP Exhibition.
During the exhibition, seminars on developing materials for Vietnam's garments and textiles industry and the application of advanced technologies in production will be held. This will also help Vietnamese and foreign enterprises to meet each other, exchange their experiences and find new partners, as the organizers expect.
Garment and textile products are among Vietnam's key export earners.
In the first three months of this year, Vietnam posted garment and textile export revenue at over US$2.2 billion, a year on year increase of 13 percent, said Mr. Hoang Van Dung, first vice chairman of the Vietnam Chamber of Commerce and Industry.
The country exported US$9.1 billion worth of Garment and textile products last year and looks to a result of US$10.5 billion or $11 billion this year, said Mr. Vu Duc Giang, chief executive officer of the Vietnam National Textile and Garment Group.
He added some manufacturers in the country have signed export contracts for the entire year of 2010, while others have had contracts until the end of the third quarter.