After announcing preliminary anti-dumping tariffs on leather shoes imported from Viet Nam (coming into effect on April 7, 2006), the European Commission (EC) has requested parties concerned to send their comments about the tariffs to the European Trade Commissioner by May 8.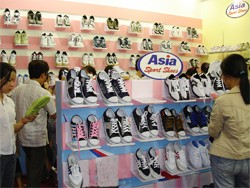 Vietnamese leather shoes are imposed the EU's anti-dumping duties. (Photo: U.Phuong)
Answering The Sai Gon Giai Phong newspaper's reporter about this issue on May 5, Vice Chairman of the Vietnam Leather and Footwear Association (Lefaso) Nguyen Duc Thuan said the Association would have no further comments about the EU's decision.
Lefaso, on behalf of 391 leather shoes manufacturers, presented a petition against the EU's position but it has not received a fair consideration.
According to the Trade Ministry, after the EC's imposition of anti-dumping duties, beside seeking new partners, Vietnamese enterprises should gradually shift to manufacturing products which fall outside the tariff imposed areas.
Among which, slipper is one of products on the rise in terms of export turnover to the EU. From early this year until now, about US$40 million worth of slippers has been exported to the EU, an increase of over 60% year-on-year.
Main markets for this new emerging product are Germany, England, Holland, Belgium, Sweden, Denmark.