Vietnam is seeking to sign an agreement with Russia on the quality of agro-forestry and seafood exports, said an official of the Ministry of Industry and Trade (MoIT) on April 21.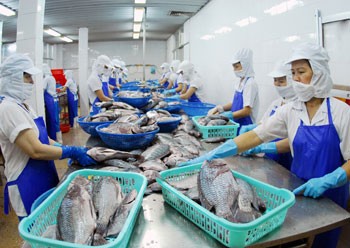 Processing fish for export at a Vietrosco's aquatic processing factory
According to Pham Quang Niem, Head of the Russia-SNG Office under the MoIT's European Market Department, this is part of a move to formulate a legal corridor, facilitating trade exchanges between Vietnam and Russia .
In 2009, two-way trade hit 1.83 billion USD, of which Vietnam 's exports were 415 million USD, accounting for only 0.24 percent of Russia 's import turnover.
Vietnam and Russia expect to boost their two-way trade to 3 billion USD by 2012 and 10 billion USD by 2020.
To this end, Niem said, the two nations need to look into an overall free trade agreement, as well as another specifically between Vietnam and the Russia-Kazakhstan-Belarus Customs Union.
This will create an important legal corridor for Vietnam to further boost exports to Russia , he added.
In the coming time, the MoIT will accelerate trade promotion activities in Russia , including a greater presence at trade fairs and exhibitions and more business visits to the market.