The 10-year- old Legend Hotel Saigon on Wednesday donated US$20,000 in cash to Que Huong Charity Center, a shelter of more than 300 orphans and disabled children in neighboring Binh Duong Province.

A donation ceremony was held at the riverfront five-star hotel instead of a 10th anniversary ceremony.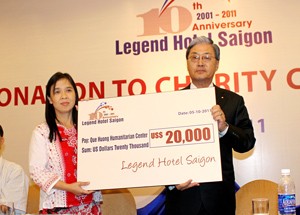 Mr. Toshio Hosoya (R), chairman of Hai Thanh – Kotobuki Joint Venture, the hotel Legend owner, presents a token cheque of US$20,000 to Que Huong Charity Center founder and director Huynh Tieu Huong on October 5, 2011 in Ho Chi Minh City. (Photo: Tuong Thuy)
"Today marks our ten years of continued success. We are delighted to be celebrating this important milestone by helping the needy in our adopted home of Vietnam," said Mr. Toshio Hosoya, Chairman of Hai Thanh – Kotobuki Joint Venture, the hotel owner.
Legend general manager Hide Ishiyama said it was the chairman of the Vietnamese-Japanese joint venture who initiated the idea of donating the sum that should have been used to organize a 10th anniversary ceremony to charities.
Then, Que Huong Charity Center was selected as it is a humanitarian home of hundreds of orphans, abandoned children and disabled children, he said.
The Japanese executive talked about Kizuna, which he explained the Japanese word meant bonds among human beings, and that became more meaningful after the March 11, 2011 earthquake and tsunami in Japan, after which his country has received lots of aids from outside. He added his Legend staff also contributed donations for the Japanese people via the Japanese Consulate General in Ho Chi Minh City.
Ms. Huynh Tieu Huong, Founder and Director of Que Huong Charity Center, expressed her gratitude in tears towards the Legend.
"This is really a profound and magnificent action representing entrepreneurial kindness towards the community, especially the underprivileged children in the society," she said.
All the children at the humanitarian house call her "Mom Huong".
The Legend officially opened on 5 October 2001 and has become one of the best hotels in Ho Chi Minh City, Vietnam's southern economic hub.