Export licences will no longer be required for garment shipments to the US, a trade and industry inter-ministerial group announced last week.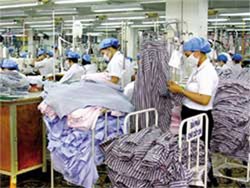 Despite Viet Nam's accession to the WTO, the DOC has been monitoring garment import from Viet Nam.
The licences had been required on an interim basis for the past four months to enable authorities to closely monitor the volumes of exports to the US market and avoid any dumping actions by US garment makers or the US Department of Commerce (DOC).
The DOC itself has been actively monitoring garment imports into the US from Viet Nam despite a lifting of all import quotas following Viet Nam's accession to the WTO earlier this year.
As a prophylactic measure, an export licence requirement had been proposed on 14 categories of garment products being exported to the US market which had been identified as most vulnerable to the DOC monitoring system.
Meanwhile, the monitoring was seen to have a chilling effect on orders by US customers for Viet Nam's garment products. Exports to the US last year accounted for more than half of all Vietnamese garment exports, but customers this year began to fall away. Wary of the monitoring system, US buyers began shifting their contracts away from Viet Nam to other suppliers.
In the first three months of the year, export growth to the US market of products in the monitored categories was modest, at 10-30 percent. Some categories even saw a decrease.
To keep from adding to the negative effect created by DOC monitoring, the Viet Nam Textile and Apparel Association had urged an elimination of the export licence requirement.