The price of commercial lobsters in the central provinces of Vietnam has unexpectedly dropped by VND500,000-600,000 per kilogram over the same period last year to around VND1.1-1.2 million a kilogram, leaving farmers with no profits or even losses.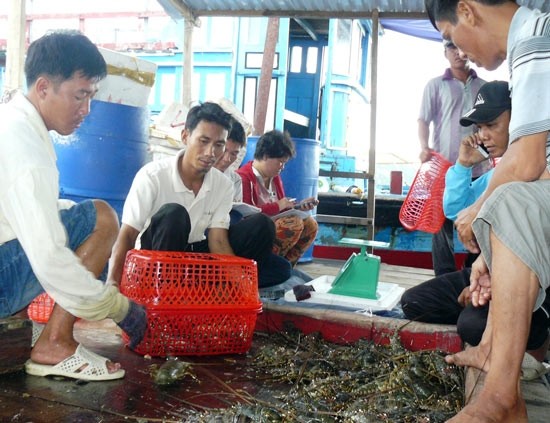 Farmers harvest lobsters in Khanh Hoa Province. (Photo: SGGP)
According to Nguyen Ngoc Huy, a lobster farmer in Khanh Hoa Province's Binh Ba Island, at the beginning of this year, farmers were cheerful as the price of lobsters was at VND1.7-1.8 million per kilogram. However, within the past three months, the price has continually dropped by about 30 percent, sending farmers into distress.

In previous years, farmers earned around VND300,000 for a kilogram of lobsters. This year, with the price falling at the beginning of the harvest season, most farmers merely broke even. Therefore, they have been working half-heartedly and waiting for the price to go up again. However, due to specific characteristics, the delay for the sale of lobsters will only last for 20-30 days.

There are around 1,000 households who breed lobsters in Binh Ba Island. This year, lobster farming has been fairly smooth with fewer diseases. In recent years, lobster output mainly relies on export to China, thus, farmers usually take risk in prices.