Many Vietnamese bicycle markers exhausted their resources or declared bankruptcy due to anti-dumping lawsuits before the European Commission (EC) lifted anti-dumping taxes on bicycles imported from Vietnam on July 15.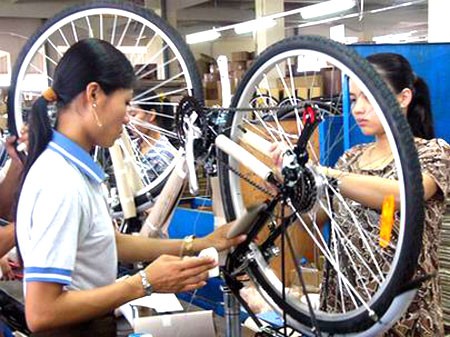 Making bicycles for export at a factory in Vietnam
The decision came after lobbying efforts by the Vietnamese Embassy and trade agencies in Belgium and the European Union (EU), and a letter sent by Minister of Industry and Trade Vu Huy Hoang to Karel De Guntch, EU Trade High Commissioner, on the issue.
The EC levied anti-dumping duties of 15.8-34 percent on Vietnamese bicycles on July 14, 2005. 
On March 19, the EC said it would consider reviewing the tariff at the request of the European Bicycle Manufacturers Association, which sought to extend anti-dumping taxes set to expire July 15.
On June 18, Deputy Prime Minister Hoang Trung Hai paid a visit to the EC and spoke with Karel De Guntch about strengthening the comprehensive cooperation between Vietnam and the EU, as well as measures to boost bilateral ties in economics, trade and investment.
Mr. Hai also suggested the EU consider ending its imposition of anti-dumping duties on Vietnam's leather-capped shoes and bicycles exported to Europe.
Anti-dumping taxes levied by the EU against Vietnam's bicycle exporters caused the greatest concern to relevant ministries and agencies because Europe was Vietnam's major export market, the bicycle industry employed many laborers and was especially damaged by lawsuits issued by the EU.
According to the Ministry of Industry and Trade, Vietnam's bike industry has struggled over the past five years, seeing a steady decline in exports, forcing many companies to cut back on production or even go to bankrupt, leaving a lot of workers jobless.
Before the imposition of the anti-dumping taxes, 80 percent of bicycles made in Vietnam were exported to the EU, with the remaining 20 percent sold locally.
The number of exported bicycles reduced sharply to 60 percent, then 45, 30 and finally down to 20 percent from 2005 to 2009.
In 2005, Vietnam exported nearly 1.1 million bicycles to the EU, but that number fell to 21,400 in 2009.
In response to the anti-dumping taxes, production fell to 200,000 bikes a year, just 10 percent of 2005's capacity.
As a result, the export value of Vietnamese-made bicycles dropped continuously. In 2007, the bicycle export turnover saw a sharp year-on-year decreased of 95.3 percent.
The total number of employees in the bike industry fell by more than 40 percent, from 210,000 workers before 2005 to only 5,000 now, severely affecting society.
Measures needed
Applying self-defense measures has become common in countries as it helps constrain imports and trade deficits effectively, and protect domestic production.
Vietnam is one of countries that have been sued the most for dumping; some 42 lawsuits have been filed against Vietnam as of the end of 2009.
The country has lost over 70 percent of these lawsuits.
To help local firms create the time to respond to punitive actions of importing nations, the Competition Management Department under the Ministry of Industry and Trade has set up an internet-based system to detect forthcoming anti-dumping proceedings against Vietnamese commodities.
The system is scheduled to come into operation in July and is set to cover over 300 items from five commodity groups.
The early-warning system will initially cover proceedings in the U.S. and Europe, the two key export markets for Vietnamese products.
The system will help put domestic producers on alert against possible anti-dumping actions when they ship products to these foreign markets.
Bach Van Mung, the department's director, said at a meeting in Ho Chi Minh City that the system would keep enterprises abreast of developments so that they may respond quickly to possible anti-dumping lawsuits.
Conditions for exported products will be displayed in three different colors on the system.
Green indicates that the products for export are normal, while yellow shows the commodities are in danger of being sued for selling at below-market prices, and red means that the export status of that product group may be facing anti-dumping proceedings.
If the system runs smoothly, the ministry will expand warnings beyond the European and US markets in the near future.
However, experts said that for effective self-defense, local companies should take the initiative in studying information and regulations of importing countries.
Domestic enterprises' ability to win anti-dumping lawsuits is very low; therefore, enterprises need to cooperate closely with associations and have transparent records to have their products be imposed with the lowest anti-dumping tariff.
The Government also plays an important role in lobbying in settling lawsuits.
In addition, Vietnam should apply some self-defense measures within WTO framework to protect local producers.