Many producers said they were under heavy pressures from high lending interest rates as the government tightened the monetary policy to fight against accelerating inflation.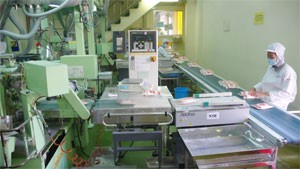 Employees work at a HCMC-based packaging company. Businesses are under heavy pressures from high lending interest rates (Photo:Minh Tri)
Le Quang Thung, acting chairman of the Vietnam Rubber Group, said the rubber industry was growing strongly, but local businesses in the sector were grappling with high lending rates.
Especially those who had to import materials from overseas were hit hardest, Thung added.
"For example, rubber producers winning a purchase order worth VND100 billion (US$5 million) have to pay a value-added tax of 5 percent [equal to VND5 billion]. And the tax will be refunded one year later," he said.
"However, the producers will have to borrow from bank to pay the tax as they need a huge amount of capitals for the order. With the lending rate if 22 percent per annum, the businesses will have to spend an interest expense of VND1.1 billion annually."
Analysts said most businesses in productive sectors were very cautious on borrowing from banks to expand businesses, while many property projects were deferred due to credit crunch.
Tran Thanh Tung, director of a private firm in District 5 in Ho Chi Minh City, said small companies like his firm cannot afford the current lending interest rates as their average profit margin amounts to below 10 percent only.
"We will hardly repay the debt, if we borrow from banks. But without loans from lenders, we will have to cope with a shortage of capitals for production. Therefore, we had to come up with a bitter decision – laying off some employees and reducing the operation."
Local businesses are under heavy pressures from high lending rates, Tran Quoc Manh, vice chairman of HCMC Handicraft and Wood Industry Association, told Dau Tu Tai Chinh Newspaper.
"To survive the hard time, many producers have to halt the production of their traditional products and switch to ones with high return rate," Manh said.
Duong Quoc Thai, general director of the Saigon Plastic Packaging JSC, said his firm had borrowed from different banks, with different interest rates ranging from 17 percent per annum to 21 percent.
"The profit this month was used for loan repayment and employee salary. Earlier, with the interest rate of 14 percent, local businesses could earn a profit margin of 2-3 percent or even nothing," Thai said.
"We now have to find a way to improve the output and quantity via upgrading equipments and production techniques."
Thai also noticed that despite the high lending rates, many businesses still kept their prices unchanged or raised slightly by 5-10 percent in an effort to keep regular customers.
Consumer prices rose 17.51 percent in April from a year earlier, the most in 28 months, stoked by increases in fuel and electricity prices. The country's central bank devalued its currency by about 7 percent on Feb. 11 as it tried to curb Vietnam's trade deficit
The government has tightened several rates multiple times since they started tightening monetary policy in mid-February. The government has also vowed to rein in spending to tame the highest inflation among major Asian economies.