The clothing market has never been busier. A wide range of luxury brands, like Louis Vuitton, Milano, Chopard, Lacoste, Mango and Bossini, are rushing into the market alongside thousands of discount and regional brands. In the face of such sudden surging competition, local brands are developing new competitive strategies.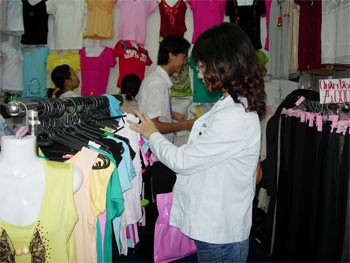 "Made-in-China" clothes are now dominating the domestic market. (Photo:KK)
"Made-in-China" clothes are now dominating the domestic market, alongside other China-made products, as they are round the world. In HCMC, along the streets where fashion shops collect, like Nguyen Trai, Le Van Sy, Tran Huy Lieu, Ly Tu Trong and Hai Ba Truong, Chinese- and Thai-made apparel is everywhere at bargain prices.
Sea Collection shop manager Nguyen Nhut Luan admitted the dominance of China-made clothes is a huge problem for local manufacturers and that the materials and patterns of clothes from China are much more diverse and beautiful than those of local makers. Local makers in fact seem virtually limited to producing basic shirts and T-shirts at prices competitive enough for today's local market.
Faced with stiff competition from imported goods, many local manufactures have switched their attention to other markets. But there is still some struggling for local market share and to build their brand names at home.
PT2000 is one example. Its stores are often filled with customers, especially as the lunar New Year (Tet) holidays approach. Though the company normally avoids major marketing campaigns, it has succeeded in holding its own against imports due to cost-effective staff and emphases on quality at bargain prices.
Nguyen Quynh Anh Thy, a Vietnamese-American women living in San Francisco is a loyal PT2000 customer. Of polo shirts she compared made of similar materials and designs, she found a the shirts she could buy in the US costs US$50 -70, while they only cost VND200,000 at PT2000.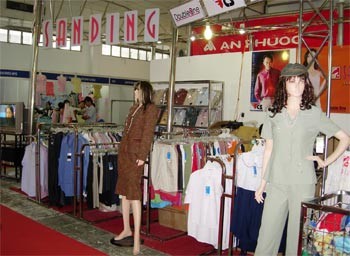 A Sanding's shop (Photo:KK)
Ninomax is also growing its local market share, as well as shares of international markets. Besides 10 stores in Viet Nam, Ninomax has two in the US and it's rumored the company is about to go public.
Han Han Company's Sea Collection is also garnering local customers' favor, despite its have entered the market just five years ago. Sea Collection makes shirts for men and women in current, international styles and its brand is locally renowned color-mixing methods. Sea Collection's sales have reached 500-600 items per day, claims a company representative.
So-called experts on the local garment industry generally agree that only Vietnamese makers know local customers better than any other garment manufacturer, and, in the longer term, the dominance of Chinese goods will be reversed by companies like PT2000, Ninomax, Sea Collection, Sanding, An Phuoc, Vee Sandy and Sifa.