Although southern provinces have entered peak harvest season of fruits, more and more imported fruits are available in the market.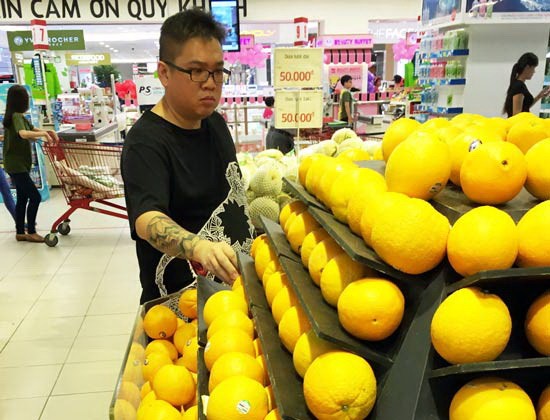 Oranges from the US sold at a supermarket in District 7 in Ho Chi Minh City. (Photo: SGGP)
A representative of Thu Duc Wholesale Market said that at this time the amount of fruits come in the market was at around 17,000-18,000 tons every night, of which imported fruits accounted for about 30 percent. Apples, pears, oranges, grapes, langsats, and mandarin oranges from Thailand, South Korea, the US, New Zealand, and South Africa currently take the upper hand in the imported fruit basket. The amount of Chinese apples and pears has been lessened as consumers are no longer in favor of them.

As for local fruits, oranges, pomelos, dragon fruits, avocados, sour sops, watermelons, and mangos are in a majority. The retail prices of local fruits have increased sharply over the same period last year, with an average raise of VND5,000-15,000 per kilogram. Particularly, Hoa Loc mangos were priced VND50,000-65,000 per kilogram; Cat Chu mangos were sold from VND25,000 to VND30,000 per kilogram; dragon fruits were at VND40,000 per kilogram; sour sops were at VND60,000 per kilogram; bananas VND15,000 per kilogram; Nam Roi pomelos VND45,000-60,000 per kilogram; green-skinned pomelos VND80,000-85,000 per kilogram; sweet oranges VND70,000-75,000 per kilogram; and king oranges VND50,000-60,000 per kilogram. With an increase in prices, local fruits have narrowed the price gap with imported fruits. This benefits for fruit farmers but at the same time it sends local fruits into a cutthroat competition with foreign ones.

At supermarkets, more and more foreign fruits, including apples, pears, grapes, oranges are imported from several countries. In display, foreign fruits always look more eye-catching with various kinds of fruits in different sizes. The prices of foreign fruits are not so expensive, ranging from VND47,000-170,000 per kilogram. For instance, Australian seedless green grapes were at VND169,000 per kilogram; Australian red grapes at VND119,000 per kilogram; US oranges at VND74,000 per kilogram; US apples from VND59,000-89,000 per kilogram; French apples at VND59,000 per kilogram; and New Zealand and South African apples from VND47,000-79,000 per kilogram. As for luxurious fruits like cherries and strawberries imported from the US, with increasing import volume their prices have declined significantly compared to previous years, standing at around VND500,000 per kilogram.

Not only at supermarkets, have foreign fruits been sold at retail markets. The local-foreign fruit ratio is 50-50 at most markets, including Ben Thanh, An Dong, Vuon Chuoi, and Van Thanh. There are more fruit stores in the city where foreign fruits are mainly imported by air. These fruit stores also provide delivery service so they attract a large number of customers. According to these stores, apples, pears, grapes, and cherries were bought most. Although the prices of foreign fruits are higher than that of local ones, foreign fruits are highly appreciated for their freshness and deliciousness. Vietnamese consumers are expected to enjoy many other kinds of fruits when the Trans-Pacific Partnership takes effect which will drag down the prices of foreign fruits.

Along with consumer goods, domestic and foreign fruits have joined a fierce competition. Most supermarkets' owners said that 95 percent of fruits sold at their supermarkets are local. However, it is time for domestic agriculture industry to restructure and reorganize its production in order to produce high production with good quality and price competitiveness so as to compete with imported fruits, otherwise domestic fruits will hardly gain foothold in local market.