Despite of expert's warning that buying gold this time is too risky because the world price of gold tends to go down, investors were rushing to buy gold bullion on June 28 when it went down much.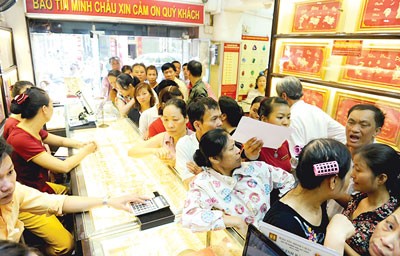 People queue up to buy gold at Bao Tin-Minh Chau gold shop in Hanoi on June 28
Saigon Jewelry Company bought the metal at VND34.21 million and sold at VND35.1 million per tael in Hanoi, a decrease of VND1.5 million a tael compared to yesterday.

Due to fallen price of the precious metal, Hanoians flooded gold stores to purchase gold bullion. In Tran Nhan Tong Street where dozen gold stores locate, many local gold buyers gathered causing traffic congestion.
Bao Tin – Minh Chau store employees had to ask people to queue waiting for their turn to buy gold. Gold stores decided to wide the gap between buying and selling price around VND1 million per tael to avoid risk.

Nguyen Thuy Linh, a gold buyer in Dong Da District said she borrowed 10 taels from relatives to do her own business ten years ago. As gold bullion price is low now, she decided to buy it to clear her debt meanwhile Cao Tien Thinh in Thanh Xuan District said he withdraw all his bank saving to buy gold to resell in the future for marginal profits.

Gold buyers were lined up in front of the gold store at Saigon Jewelry Co's headquarters in Ho Chi Minh City's District 1, patiently waiting their turn. An Ha in District 6 said before she bought gold at VND45 million per tael so now it is down I decided to buy. Minh Hien in District 3 said he fears that gold bullion would be down yet as it is VND10 million lower than previous so he decided to buy.

A gold shop owner said gold buyers were ready to buy simply because the current price was cheaper but not mind the difference between the international and local gold price. The local gold price is VND5.8 million higher than its international counterpart.

However, not all people could buy the precious metal as stores sold out all gold. These people received a promissory note that employees of store will deliver gold at home later.

As purchase power is strong, SJC in Hanoi increased to VND36.06 million per tael and VND36.65 per tael while in HCMC it is VND36.3 million and VND37 million per tael in the afternoon.


On June 28 , SJC had already sold 5,000 taels of gold bullion, said Nguyen Cong Tuong, head of SJC sale department. While Phu Nhuan Jewelry Co (PNJ), another big local gold bullion seller, announced to sell over 1,500 taels of gold bullion, an increase of more than 50 percent compared to two days ago, said Nguyen Ngoc Trong, sales director of PNJ. The precious metal increased VND2 million on the day not due to its counterparts in the world but because of strong purchase power in the country.