Domestic gold price increased sharply May 13 by VND150,000 per tael. The boom is said to have been triggered by the sudden hike in the world gold price.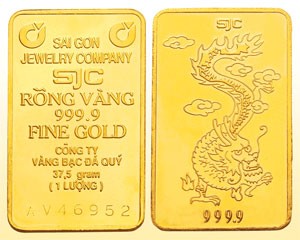 SJC gold
In early morning trading, a tael (1.2 ounces) at SJC saw prices increase for buying and selling to VND140,000 and VND150,000 respectively.

An SJC tael is now bought at VND20.02 million (about US$1,125) and sold at VND20.09 million ($1130).

The rise is blamed on the hike in the world gold price, which suddenly climbed from $913 to $927 an ounce in the morning, which forced local gold sellers to adjust the domestic gold price accordingly.