Gold in Vietnam saw strong recovery this morning, after it dropped VND900,000 a tael (1.2 ounces) yesterday.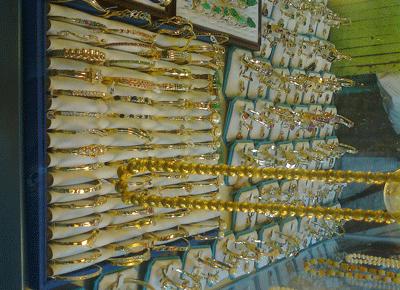 Photo: V. Huyen)
Gold sold at VND45.3 million (US$2,162) per tael, VND1 million higher than the global price.
Local gold price reacted quickly against the global price this morning. Since opening at around 9am, local price hiked along with global price.
Saigon Jewelry Company, the biggest gold processor and trader in Vietnam, collected gold at VND45 million and sold at VND45.35 million as of 8:53am Vietnamese time, an increase of VND300,000 compared to yesterday afternoon.
Sacombank Jewelry Company bought gold at VND45 million and sold at VND45.30 million as of 10:37am Vietnamese time.
Hanoi-based Phu Quy Jewelry Company purchased SJC-brand gold at VND45.25 million and sold at VND45.37 million as of 10:00am Vietnamese time.
Meanwhile, Bao Tin Minh Chau Jewelry Company quoted the price at VND45.15 million for buying, and VND45.35 million for selling at 10:05am Vietnamese time.
Internationally, gold steadied on Tuesday, after falling in the previous session on a weaker euro, while prices were on track for their biggest monthly increase since August.
Spot gold added $1.05 an ounce to $1,730.36 an ounce, having hit an intraday low around $1,716 on Monday.
Gold rose about 5 percent last week, its fourth consecutive weekly gain, after the U.S. Federal Reserve said it was unlikely to raise interest rates from near zero until at least late 2014, which could put pressure on the dollar.
U.S. February gold was steady at $1,731.50 an ounce.