Just like last year Vietnamese-made foodstuffs dominated the Tet shopping season in Ho Chi Minh City as consumers plumped for their improved quality and remained wary of imports following contamination scares in recent times.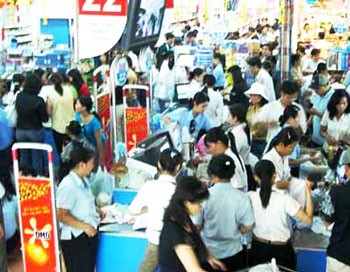 Customers shop at Co.opMart Nguyen Dinh Chieu a few days before Tet (Photo: Vietnamnet)
Local products made by prestigious names like Vissan, Kinh Do, Hai Ha, Bibica, Sargifood, Nutifood, and Huynh Gia Huynh De flooded city markets and supermarkets.

For instance, imported candies and biscuits reportedly accounted for a mere 10-15 percent of sales compared to 30-50 percent last year.

Many observers attributed the changing preference to people's distrust of imported goods following melamine milk scandal late last year.

At the same time domestic producers have been installing modern equipment and technologies to churn out quality products with attractive packaging.

They have also earned consumers' trust by improving their service, providing information about products and advice on how to choose the right product, and readily settling complaints.

They have also steadily increased their range of products. During the Tet season food giant Vissan introduced eight new processed food items while Bibica brought out 20 new biscuits and candies.

Supermarkets, acknowledging these efforts, joined hands with them to promote high-quality domestic products.

Thus, more than 90 percent of the food products displayed at supermarkets during Tet were produced by Co.opmart, Vissan, Big C, Metro, and Citimart.

Many of these products are now likely to be added to the formal list of "Vietnam high-quality products" – new popular items like SATRA rice and dried shrimps and Co.opMart pork and packaged foods.

They are also competitively priced: a kilogram of Co.opMart rice costs VND2,500--3,000 lower than other brands and a kilogram of SATRA's dried shrimps is VND30,000-60,000 cheaper.

The prices of confectionary imported from France or Denmark are double or even three times higher than that of their local rivals though the quality is similar.

Thanks to the increasing trust in their products, Vietnamese producers can now look forward to a brighter future.