Due to recent changes in the US dollar/dong exchange rate, the cost of imported confectionaries has skyrocketed, opening the door for domestic companies to take advantage.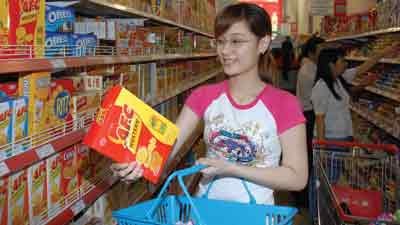 A customer shops for sweet crackers at a CoopMart supermarket in HCMC, December 15. The higher cost of foreign confectionaries combined with increased quality of domestic goods has boosted sales for local companies. (Photo: SGGP)
Ngo Van Hai, deputy director of Citimart Supermarket, said prices of most foreign-made sweets have surged 15 percent against the same period last year.
The cost of most domestic confectionaries, meanwhile, is around 20 percent lower than imported counterparts.
In addition, several foreign foods made headlines recently when they were discovered containing a host of toxic chemicals, causing public alarm over imports.
After US and Malaysian health authorities warned customers not to buy dried fruits imported from China and Taiwan (China) as they were found containing lead, the Ho Chi Minh City Department of Health followed suit.
It announced that imported Chinese fruits and jams sold in the city's Binh Tay market were also found containing excessive amounts of lead and prohibited additives.
Binh Tay market managers said after the warning from health authorities, vendors and customers stopped buying many goods from China.
Inspectors from District 12 Market Management also discovered 320 containers of expired Malaysian-made biscuits on December 2, 12 of which had two expiry dates on the same package.
The market share of overseas-made candies has plummeted at local Big C, CitiMart and Co.opMart supermarkets. Vietnamese products have been warmly welcomed, meanwhile, as they have proven to be good quality and competitive in price compared to foreign counterparts.
Supermarkets are now awash with domestic products. Eighty percent of candy made by well-known producers has replaced candy from neighboring countries in CitiMart. Only imported chocolate has been selling well at the supermarket chain.
Shelves that used to be full of Chinese and Malaysian cookies 10 years ago are now packed with local products, thanks to bakeries in the country improving their quality and reducing prices.
Ms. Duong Quynh Trang, External Relations Director of the Ho Chi Minh City Big C Supermarket, said the number of both local and foreign sweets sold in stores increased 30 percent this year. Domestic products are shelved in the best positions, she added.
Local businesses have also taken advantage of opportunities to invest more time and money in promoting their brands, as well as upgrading their technology, improving quality and diversifying products.
And while the price of ingredients has gone up, especially sugar, most manufacturers have managed to keep product costs steady.
Vietnamese company Bibica launched 4,500 tons of cookies this year, a year-on-year increase of 20 percent. It has also diversified 120 candy products with 30 new designs and kept most prices stable.