One year ago, local textile and garment firms were expanding markets in the country, however, now they are shrinking production and trying to survive under the current economic crisis.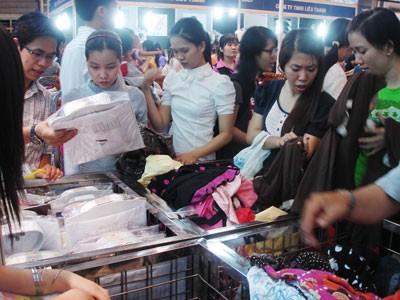 Customers buy Vietnamese clothing at a Fair (Photo: Cat Tuong)
One year ago, textile and garment firms invested in production for the local market as they wanted to get a grip on the market with population of nearly 90 million people.
Textile firms expanded distribution channels and retail stores nationwide.
During 2011 and 2012, distribution agents and outlets had mushroomed in the country along with advertising campaigns.
Textile and garment outlets sprung up in crowded streets and shopping malls to lure consumers.
However, due to the long-standing economic crisis, purchase power declined sharply and with retail sales dropping, textile and garment consumption suffered.
Not only luxury goods, but also commonplace commodities were affected. Nguyen Huu Toan, Deputy Head of Saigon 2 Garment Joint-Stock Company with Gidini and Sanding brand names, said they have seen a decline in purchase power in retail stores, supermarkets and schools; therefore, the firm makes perfunctory production and has cut down on quantity of each design to curb inventory.
For years, Sanding was part of the City subsidized program, offering discounts of 10-15 percent. Nevertheless, purchase power still declined and parents cut spending by buying cheaper clothes in markets.
Firms also launched promotions and discount sales and even closed stores reporting poor sales.  Nguyen Thi Dien from An Phuoc Company with An Phuoc - Pierrre Cardin brand name said the company had to reconsider expanding more outlets due to slow consumption and high rentals. At first the company planned to open 100 retail stores but stopped with only 85 outlets.
Since difficulties have arisen with the economy downturn, the Association of Garment and Textile Embroidery and Knitting (Agtex) have decided to hire foreign experts to manage retail in the country.
Nguyen Van Hung, Deputy Director General of the company, said that before the company had intended to open 80 outlets but foreign experts proposed cutting down on number of outlets to only 40.
This difficult economic period should be used by firms to restructure their businesses and move towards the right direction in development and growth.