Despite the central bank restricting dollar transaction in the economy, local people still hesitate to use international credit card to use overseas due to high usage fees.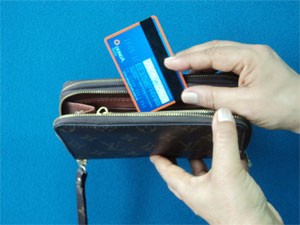 Credit card remains unpopular in Vietnam due to high fees (Photo:Minh Tri)
Commercial banks have encouraged customers who have to travel abroad to opt for international credit card to meet their demand for US dollar.
Lenders including Asia Commercial Bank (ACB), Eximbank, DongA Bank and Vietnam International Bank constantly released many promotional packs for credit card services, including one-day credit card issue, preferential foreign exchange rates and low margin rates.
Bui Tan Tai, deputy general director of ACB, said credit cards offered a safer way of money management than cash when customers traveled overseas.
"Customers planning to travel abroad should opt for international credit cards, which offer high deposit interest rates and high foreign exchange rates," said Tran Phuong Binh, chairman of DongA Bank.
Despite lenders' promotional packs for credit cards, the number of credit card users remains low as fees of credit cards in foreign countries is too high, banking experts said.
For using overseas, Visa and Master credit card users have to pay a withdrawal fee of 4-7 percent of the total withdrawal amount and a foreign exchange fee of 3-4 percent. They also have to pay a lending rate of 21-27 percent per annum and an annual fee of VND200,000-300,000.
Some credit card users said that they were fumed about some "unreasonable fees" of their lenders.
ATM account will be locked at once if customers input wrong PIN code for the first time, a credit card user told Dau Tu Tai Chinh Newspaper, adding it cost him VND35,000 to reactive the account.
Prime Minister Nguyen Tan Dung on April 13 instructed the State Bank of Vietnam to cut the cap on the amount of US dollars a resident can carry abroad to US$5,000 from $7,000.
Vietnam needs to reduce US dollar transactions in its economy and restore confidence in the dong as faster inflation deters use of the local currency, ThanhNienNews quoted Ayumi Konishi, the Asian Development Bank's Vietnam director, as saying.
Dollars make up about 20 percent of money used in Vietnam, Konishi told reporters at a conference in Hanoi Wednesday.
The State Bank of Vietnam early this month announced a new cap on dollar deposit rates in an effort to restore stability in the monetary market.
 
Starting April 13, the ceiling for interest rates on dollar deposits will be 3 percent, the central bank said. For institutional and corporate clients, the cap will be just 1 percent.
The central bank said banks in Vietnam are offering to pay individual clients an average 4.5 percent a year on dollar deposits, much higher than the rates in regional countries.
The new cap is necessary to bring local and international rates closer to each other and to stabilize the currency market, the bank said, noting that higher dollar rates put upward pressure on dong rates.
Since last month, Vietnam has cracked down hard on illegal dollar hoarding and trading in an effort to stabilize the currency market.