The logistics industry in Việt Nam, which is expected to develop strongly in coming years, needs a new legal framework that would address future growth and its participation in a more competitive international environment, an official of  the Việt Nam Institute of Logistics said at a seminar held in HCM City yesterday.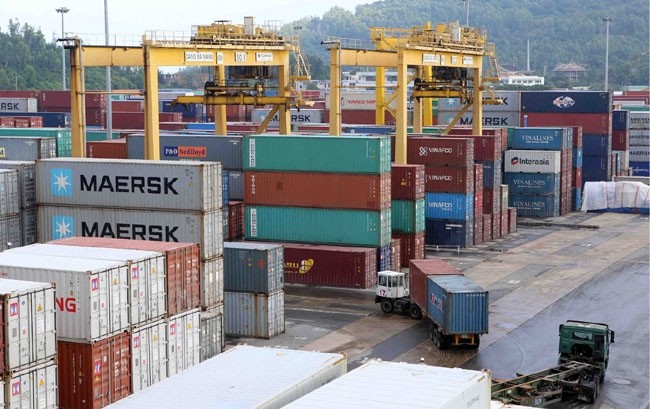 Containers being loaded at Da Nang Port. Local enterprises are implementing restructuring to improve competitiveness in both domestic and foreign markets. — VNA/VNS Photo Tran Le Lam
Bùi Quốc Nghĩa, director of the institute, said that Việt Nam had become a global manufacturing and processing hub by signing more free trade agreements (FTAs) in recent years.
Last year, the volume of exports going through the country's seaports reached an estimated 427 million tonnes. The volume is expected to hit 470 million tonnes this year and about 560 million by 2020.
Speaking at the seminar, Võ Tân Thành, director of the Viet Nam Chamber of Commerce and Industry (VCCI) in HCM City, said that FTAs would lead to an increase in both imports and exports, furthering the need for professional logistics services. 
Enterprises from mainland China, Taiwan, Japan and the US in recent months have visited Việt Nam to seek investment opportunities in a bid to take advantages of FTAs, he said.
Local enterprises are also implementing restructuring to improve competiveness both in domestic and foreign markets, increasing demand for logistics services, according to Nghĩa.
In recent years, the logistics sector has been growing at a rate of more than 20 per cent per year.
Foreign players, however, dominate the market, particularly the international transportation segment, with 80 foreign logistics firms accounting for more than 70-80 per cent of market share, Nghĩa said.
The country has nearly 2,000 domestic companies involved in the logistics sector, yet most of them are small- and medium-sized and lag behind their foreign counterparts in resources, human resources, management and IT use.
The domestics companies account for a modest ratio of total market share, he said.
According to experts, most Vietnamese enterprises usually sign import contracts under the Cost, Insurance and Freight (CIF) form, and export contracts under Free on Board (FOB). As such, the majority of these goods are transported through foreign shipping companies.
Nghĩa said the logistics industry still has underdeveloped infrastructure and a shortage of qualified human resources, as well as high costs.
In recent years, the Government has invested more in infrastructure to improve freight transport, the seaport network and logistics services.
However, the poor connection between infrastructure and commodity centres has led to high logistics costs in Việt Nam compared to other countries like Thailand and China, he said.
The legal and institutional framework for logistics is also complex and in need of closer coordination between agencies.
He said the Government should devise a national strategy for development of the logistics industry.
Delegates at the seminar agreed that the Government should create a legal framework that would help to standardise services, upgrade infrastructure and improve the quality of human resources.
Domestic logistics enterprises should also work together to better compete with foreign players.
Thành, the director of VCCI in HCM City, said that Vietnamese logistics firms must improve their competitiveness to expand their market share, particularly in an era of international integration