The project covering an area of around 464 hectares of land and 194 hectares of water surface is invested by the Long Son Petrochemical Co. Ltd. (LSP), a joint-venture enterprise between Thailand's Siam Cement Group (SCG) and Vietnam National Oil and Gas Group (PVN), with total investment capital of US$ 5.4 billion.
Accordingly, it is expected to the first fully- integrated petrochemical complex construction in Vietnam with its capacity of olefin products up to 1.6 million tons a year after putting into operation in 2020.
The construction was designed to produce polyethylene, polypropylene and petrochemical products…
On behalf of the Government, PM Nguyen Xuan Phuc honored efforts of SCG, PVN and the Long Son Petrochemical Company for the groundbreaking ceremony.
Besides that, the PM also asked the investor to ensure progress of the project as well as absolute safety with application of modern scientific and technological advances.
PM Nguyen Xuan Phuc required Ba Ria- Vung Tau province pays attention to protect natural and social environment, preserve the cultural traditions of the people as well as restore natural forests in this area to meet the long-term sustainability development of the project.
Ministries, agencies, PVN and Ba Ria-Vung Tau province have to create favorable conditions for the project to implement on schedule because the Long Son petrochemical project is considered as a foundation of the good strategical partnership and traditional friendship relations between Vietnam and Thailand, added the PM.
On the same day, PM Nguyen Xuan Phuc visited and presented special gift to Vietnamese heroic mother Nguyen Thi Dan, war invalid Nguyen Ba Mui and revolutionary veteran Dam Thi My, in the province.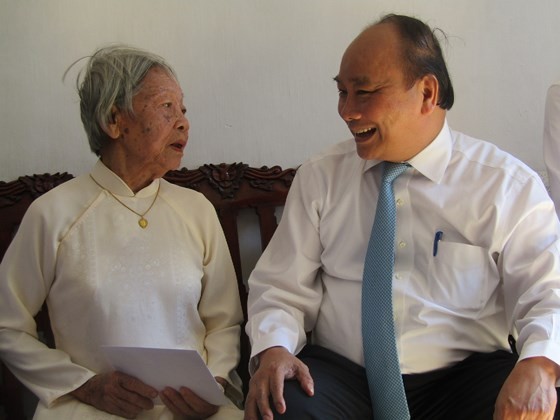 PM Nguyen Xuan Phuc visits the Vietnamese heroic mother