Through one year of the campaign "Buy Vietnamese goods," Vietnamese-made items have achieved good position in the heart of clients; however, a long-term strategy is needed if domestic enterprises are to dominate the market.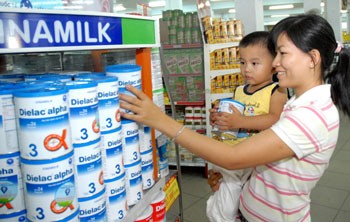 Products of the country leading dairy processor Vinamilk are choosen by consumers thanks to available prices and good quality. (Photo: Cao Thang)
Vu Thi Kim Hanh, Director of the Business Supporting Associates (BSA), said that before the campaign was launched and the worldwide economic crisis was underway, Vietnamese enterprises only focused on exportation. But since then, domestic businesses have honed in on the Vietnamese market, especially in the countryside.
The countryside market has proved its vital role, said Ms. Hanh. 857 enterprises have sold their goods in the new market, netting around VND1, 5 trillion.
According to economic experts, the countryside market is of full potential, with a population of 60 million, threefold that of cities. Mobile stores stocked with essential commodities for residents and workers in countryside localities and industrial parks have changed people's views of homemade goods.
Through the campaign, it was decided that focus of the campaign must be on businesses more than customers. Enterprises need to become more competitive to launch good products and services that will receive support from customers. Vietnamese consumers will respond if domestic producers make a heavier investment in improving the quality of products and services.
Foreign retailer groups consider Vietnam as the market of full potential, according to Luong Van Tu, former deputy head of the Ministry of Industry and Trade (MoIT). Domestic businesses should continue to develop supermarket form to hold market share as well as create mobile stores to supply goods to each household in the countryside; traditionally, home delivery is a favorite form of Vietnamese commerce.
MoIT is working out a program to push up the national commerce for 2011, including a division specifically in charge of promoting the trade of domestic goods. MoIT and relevant agencies will work together to provide market information in order to strengthen cooperation and reduce unhealthy competition.