The Construction Ministry said March 16 it has cooperated with the Vietnam Development Bank to formulate a pilot plan to provide loans at preferential interest rates to build houses for workers and low-income residents.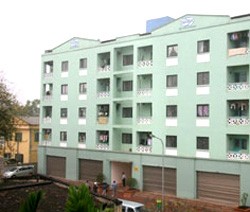 An apartment block for low-income residents in Chuong My District, Hanoi
Under the plan, enterprises can borrow loans worth up to 70 percent of the total investment capital in their housing projects at interest rates of 6-7 percent per year for 10 to 15-year terms.
 
There will be 20-30 projects receiving the pilot loans in 2010, the ministry said.
 
According to the ministry's Housing and Real Estate Market Management Department, 24 housing projects for workers have been developed nationwide with total capital of VND2.6 trillion, and 31 projects for low-income residents worth VND2.5 trillion.
 
After completion, the 31 projects will provide 7,500 apartments, occupying an area of 655,000 square meters.
 
About 1,609 apartments for workers and low-income residents are expected to be put into use in 2010.