Although import tariff on automobiles has reduced 2-4 percent as per WTO commitments and 10 percent on those from ASEAN nations since January 1, local car prices have increased from tens of millions to over one billion dong for the last couple of days because of new special consumption tax calculation.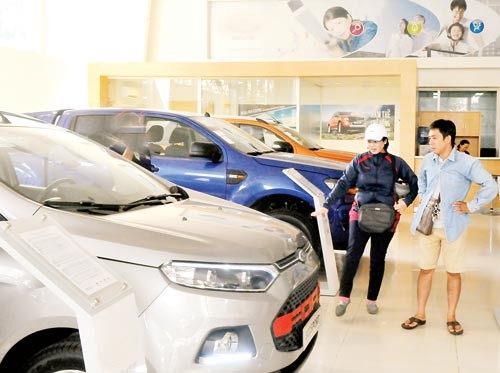 Car buyers at an outlet in HCMC (Photo: SGGP)
The new calculation has highly increased luxury tax on auto lines with cylinder capacity of over 2.5 liters.
 
For the last one week, the price has hiked VND20-150 million (US$890-6,675) per car at outlets in Cong Hoa street in Tan Binh, Phan Van Tri and Quang Trung in Go Vap, An Duong Vuong in District 5 and Tran Hung Dao in District 1.
 
BMW and Mercedes-Benz automakers have posted their January prices on their websites. Of these, luxury lines saw the price up from few hundreds of million dongs to over one billion dong.
 
The highest increase falls on high-class CBU (completely built unit) items imported from Japan, the U.S. and EU. They have enjoyed import tariff cut of 2-4 percent in accordance with WTO commitments but suffered financial burden from the new special consumption tax policy.
 
In addition information that the National Assembly might consider a strong excise hike on automobiles of over 3 liter engines has resulted in strong fluctuations in import auto price.
 
From the beginning of this year, import tariff on CBU cars from ASEAN has been lowered to 40 percent from 50 percent in 2014.
 
However, the number of automobiles belonging to this group has been few in the market.
 
Vietnam has mostly imported pickup trucks from Thailand and Indonesia but this type has been imposed only 5 percent import tariff compared to 50 percent on other lines. Therefore, the 10 percent tax cut has not affected pickup trucks at all.
 
Meanwhile, the number of other CBU products from ASEAN is limited now because most auto joint ventures in Vietnam are both assemblers and sole distributors of products under their brand names. So they will not import those that can compete with locally manufactured items except some lines with less competitive market share than import ones.
 
According to automobile assemblers and importers, the new special consumption tax policy might accelerate auto price by 5 percent compared to the previous calculation. Some manufacturers have not applied the new calculation, kept their prices unchanged and waited for their rivals' moves before making a decision.
 
Experts said that when tariff falls 10 percent, car import costs will reduce about 7-8 percent. However, the new excise policy has made it on the up trend of 20 percent.