Machines and equipment saw trade deficit reduce from 17. 47 percent 2010 to 10.16 percent in 2011 and reached trade surplus in the three following years, reported the Planning Department under the Ministry of Industry and Trade at a conference yesterday.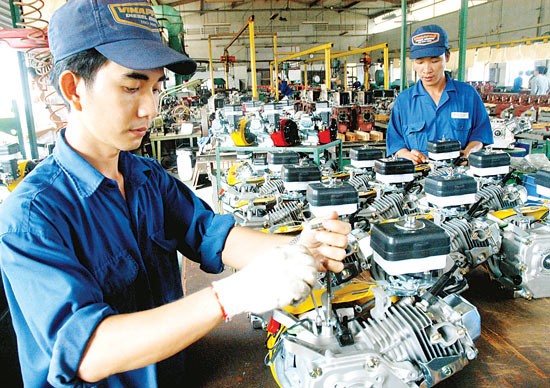 Vietnam Power Products Manufacturer Company produces diesel engines (Photo: SGGP)
However, machinery products of Vietnamese companies have not been diversified in designs. Their quality is not stable and price is not competitive.
Businesses from electricity and chemical industries still have to use import machines and equipment and materials for production as locally made products have failed to meet quality standards.
The Ministry of Industry and Trade will continue facilitating domestic businesses to improve their product quality, diversify designs, ensure technical standards and offer more competitive prices, said a ministry representative.
Project investors must divide their bid packages into smaller bids to create conditions for the use of products of local manufacturers.
This requirement originates from the fact that investors usually give priority to imported machines during issuing invitation for bids although the Ministry of Industry and Trade has announced that local businesses can supply many kinds of these products.
The investors have even required that products must be imported from Singapore, South Korea or Thailand and other developed countries.