The Vietnamese markets are being flooded with a mass of cheap, poor-quality and toxic Chinese products with many stores selling Chinese toys without labels of manufacturing or CR guarantee marks.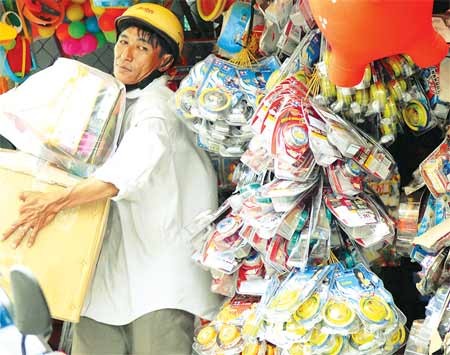 A shop selling mostly 'made-in-China' toys in District 5, HCMC (Photo: SGGP)
Regardless, stores continue to sell the goods for their high profit margins, knowing fully well of the dangers of toxic poisoning to children who play with toys tainted with toxic chemicals like DEHP or lead which causes cancer or sterility.
 
Most toys displayed at wholesale shops on Thap Muoi, Tran Binh and Le Quang Sung Streets as well as Binh Tay Market in District 6, Kim Bien Market in District 5 in Ho Chi Minh City are all made-in-China and sell at cheap rates.
 
For instance, a game player goes for only VND30, 000-90,000 in these shops and markets, while they are for VND100,000-200,000 in bookstores.
 
Luong Ngu, an owner of a toy shop on Tran Binh Street, said parents who come to the shop usually buy toys that their children like and care only about the price, not Vietnamese labels or CR stamps.
 
My Ngoc, a toy wholesaler at Binh Tay Market, said that children imitate their reel life heroes like superman in cartoons and buy look-alike toy weapons, which sell like hot cakes.
 
Chinese toys currently account for over 90 percent of the toy market share in Vietnam.
 
Local toy importers complain that it takes at least three months to process various documents before selling imported toys in the market, while similar toys brought in illegally are available in wholesale markets almost instantly.
 
This scenario does not stretch to just toys but other Chinese products as well. Markets in Vietnam are full of very poor quality goods like electronic items, foodstuffs, glasses and beauty products.
 
A farmer from Hoc Mon District said she had bought a made-in-China radio, which went out of order after just one month. She brought the radio to the shop where she bought it to ask for an exchange but the shop owner refused saying there was no guarantee on cheap Chinese products.
Earlier in April, the Goods Product Quality Management Bureau warned of Chinese made glass cups and plastic bottles for children, which contained toxic lead thousand times higher than safety limits.
The bureau said the cups also contained other toxic substances that are harmful for children.
Despite warnings by authorities, many shops in Dong Xuan wholesale market, Hang Khoai Street and Phung Hung Street in Hanoi continued to sell the cups.
The shops claimed that the made-in–China cups sold well because of their reasonable price and beautiful designs.