Vietnamese-made confectionary goodies are increasingly becoming more and more popular with Tet shoppers and giving a tougher competition to foreign made imported products at all local markets across the country.
Locally-made sweets and candy are gaining more popularity by the day, especially with Tet shoppers. At most of the traditional markets in Ho Chi Minh City, such as Binh Tay in District 6, Kim Bien  in District 5 and Ben Thanh in District 1, which once were full of Chinese and Malaysian made goodies, now are stocked with a variety of inexpensive local made commodities, thanks to an improved quality of many bakeries across the country.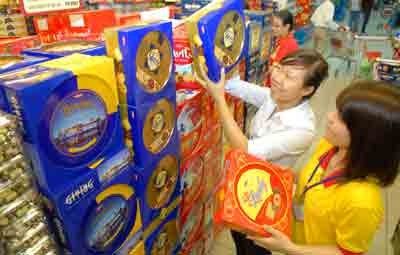 Customers buying confectionary goods at Co-op Mart (Photo: SGGP)
Moreover, packaging designs of confectionary products manufactured by small-scale companies like My Ngoc, Hai Au, Duc Hanh and Tan Huong are very eye-catching and appealing on store shelves.
Nguyen Thi Tam, an owner of a sweet shop in Tan Binh District, said sales of Vietnamese made candy products have increased of late showing that customers are buying up domestic made goods more than in the past, thanks to cheaper pricing, improved quality, a wider selection, attractive packaging and appealing advertisements.
Also local made sweets are at least 10-20 percent cheaper than imported products, Tam said.
On Tam's shop shelves, many prime imported confectionary goods from Denmark, Thailand and the US can be seen in abundance, yet sales have slowed substantially with consumers preferring locally made products.
On the other hand, Chinese-made products now have no takers, as people fear for their health, after a multitude of negative reports and incidents, Tam said.
Majority of goods available in supermarkets for Tet Lunar New Year, are domestically made. Prices of home-made goods fluctuate from tens of thousands to hundreds of thousands.
In addition, bigger supermarkets like Co-op Mart, Big C and Citimart offer pre-packed gift hampers with an assortment of candy, wine and various snacks manufactured in the country. Though some are priced too high, yet   people are choosing to buy them as they feel assured of the quality.
Phan Van Thien, deputy general director of Bibica Corporation, said the company plans to launch around 5,000 tons of confectionary products and chocolate sweets, an increase of 15 percent compared to last year.
The company is also geared to launch its own line of   deluxe candy called Goody, to compete with imported brands. However, to beat competition the company will keep prices 20-30 percent lower than other domestic products.
Kinh Do Corporation will supply approximately 3,200 tons of food commodities to markets and will launch a deluxe spring gift Huong Xuan, Korento and Story based on European recipes, said Le Van Thinh, deputy manager of Kinh Do.
Hoang Thi Tam Ai, director of Tri Duc Company, said some products of the company will be priced higher as overheads like electricity, workers' salary and packaging costs have increased.
Though locally made products are gaining popularity, customers must exercise caution before buying as often some small production units resort to using cheap ingredients and then having their items repackaged to give a deceptive appearance of being imported or of well-known brands, to sell at higher profits.