After several years of striving to meet standards in quality and price, 'made-in-Vietnam' commodities have successfully beaten competition by imported goods and have flooded local markets across Ho Chi Minh City this Tet Lunar New Year.
Markets are finding it difficult to sell imported jam brands these days. Just three year ago, Chinese preserves like candied ginger and dry squash were flooding both small and larger markets like Ben Thanh and An Dong in Districts 1 and 5.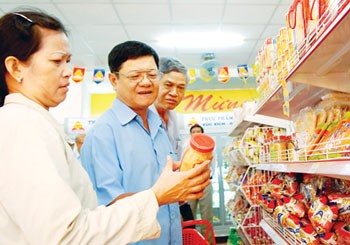 Consumers buying subsidized 'made-in-Vietnam' processed food items at a Vissan shop in HCMC (Photo: SGGP)
Pham Ngoc Thuy, owner of the Thanh Long jam production unit said that she has had to double the capacity this year to meet the huge demand.
This year, 'made-in-Vietnam' cakes account for 80-90 percent of stocks in big supermarkets like Co-op Mart, Maxi mark, Big C and Citimart, best selling brands being Kinh Do, Bibica and Pham Nguyen.
Nguyen Phuong Thao, director of Maxi mark says that most of the customers prefer domestic made items because of their reasonable pricing, attractive packaging and the belief that the quality is superior and safe to consume.
Domestic grown fruits are also being preferred by consumers because of their freshness and cheaper rates. Star apple, mango, dragon fruit and grapefruit are some of the highest selling home grown fruits that are selling better than imported fruits like apples, pears and grapes.
Several consumers express their fear that imported fruits may be containing chemical preservatives.
The volume of fruit in wholesale markets like Tam Binh in Thu Duc District and Binh Dien in District 8 has increased from 150 to 170 tons a day, which is expected to go up four times as Tet New Year approaches closer.
According to the Binh Dien management committee, over 90 percent of the fruit supplied in the Tet markets comes from the Mekong Delta and southeastern regions.
On the other hand, frozen seafood, processed food and rice are almost totally taken up by the domestic market, with a 98 percent market stake.
Le Ngoc Dao, deputy director of the Department of Industry and Trade, says that 'made-in-Vietnam' goods account for 90 percent of stock in the domestic market; a truly great achievement for the entire community, businesses, distributors and consumers.