In the context of galloping inflation, a concerted campaign is needed to encourage consumers to use goods made in Vietnam, an expert says.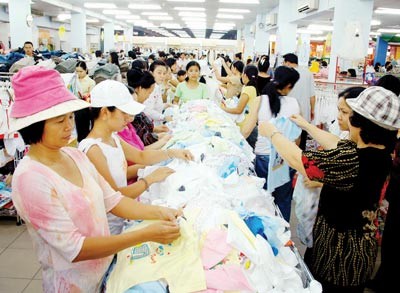 Consumers are choosing domestically-made clothes at Co.op Mart Cong Quynh in district 1 (Photo: SGGP)
Vu Kim Hanh, Director of the Business Studies and Assistance Center (BSA), is afraid that Vietnamese goods will lose customers within the country when Vietnam opens its retail market to foreign companies in January as part of its commitments to the World Trade Organization (WTO).
The recent increases in the prices of goods and services in the country have already affected production and consumption. For example, people spent more on essential goods like food, consumption of which increased 45 per cent, while cutting down on luxurious items like clothes and cosmetics.
In addition, they pay a lot of attention to promotion programs, which explains an increase in consumption at supermarkets compared to traditional markets.
At a seminar held recently to discuss ways to get consumers to look at Vietnamese goods, participants said that domestic companies must improve the quality of goods and make available more information about their products and services.
High quality products and good after sales service have won praise from consumers, and this has to be maintained if domestic firms are to hold their own against competitors.
On the other hand, some participants said that Vietnam's move to fully open its retail market will create an attractive business environment and stimulate domestic enterprises to develop their business further.