Malaysia's HLG Unit Trust Bhd said it expects to generate sales of 50 million Malaysian ringgits for its HLG Vietnam Fund this year via its "Invest in Vietnam" campaign, launched in Kuala Lumpur Oct. 19.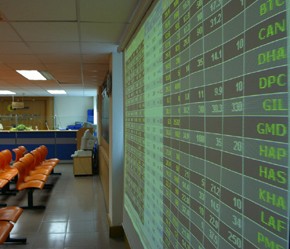 A board of stock prices in Vietnam
The wholesale equity and growth fund was launched in Feb. 2008 and recorded a return of up to 87.78 per cent in its six-month performance, and an 80.38 per cent return since its inception, HLG Unit Trust said in a statement.
"Vietnam is Asia's rising star that is attracting investors from around the globe. This is because Vietnam's budding export sector and fast expanding consumer market makes the country's GDP growth rate one of the region's most exciting in recent times," HLG Unit Trust acting CEO and executive director Teo Chang Seng said in the statement.
The company is the manager for the fund, whose current size is 20 million Malaysian ringgits, and HLG Asset Management is the external investment manager.
Meanwhile, Ho Chi Minh City-based Vietnam Asset Management (VAM) is the appointed external foreign investment manager, delegated to manage the fund's investments in the Vietnamese equity market. VAM's strategic investors include UOB Kay Hian and Dubai Ventures Group.
The HLG Vietnam Fund invests in the equities and equities-related companies based in Vietnam.
Banking, consumer, health care, energy, materials and resources, industrials, real estate, telecommunications and utilities are among sectors it invests in.
Key personnel from VAM, represented by executive chairman John Lyn, investment director Nguyen Hoai Thu, head of business development Peter Walsh, and CEO Nguyen Xuan Minh are now touring Malaysia to provide first-hand information on Vietnam's market outlook.