LONDON, Aug 22, 2011 (AFP) - Sir Alex Ferguson revealed on Monday that Manchester United are likely to consider playing friendly matches in Vietnam after the Premier League champions announced a three-year partnership with a leading Asian mobile telecommunications company.
United have signed up to a partnership with mobile firm Beeline to distribute content in Vietnam, Cambodia and Laos in a bid to expand the club's brand in Asia.
Ferguson's team are already hugely popular in Asia, but it is estimated they have 16 million supporters in Vietnam alone and Ferguson believes that could led to a pre-season trip to the country in the near future.
"We have been to most parts of the Far East over the years," Ferguson said.
"People have said we must go to Vietnam. I am sure there will be an opportunity for us.
"Manchester United has always been at the forefront of the game off the pitch as well on it and this partnership is another example of that.
"Everyone knows about the passion of our fans in that part of the world and this deal makes it a lot easier for us to keep in touch with them."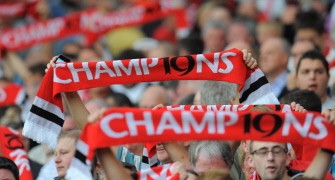 Manchester United supporters hold scarves in the air before the English Premier League football match between Manchester United and Tottenham Hotspur at Old Trafford in Manchester on August 22, 2011. AFP
United's commercial director Richard Arnold believes the Far East, with its estimated 190 million United supporters, will become an even more important part of the club's marketing plan as the rest of the world suffers from financial difficulties.
"Many economies in that part of the world have been largely undented from the impact of the credit crunch," he said.
"Asia has gone from strength to strength in both capital and consumption-based growth.
"Given that situation and the fact such a huge proportion of our fans are based in Asia, it will continue to be a huge part of our business going forward.
"In Britain support comes through tradition, from fathers and grandfathers. In the Far East it is a new thing. The Premier League is attractive and people want to support a team."
Meanwhile, United have confirmed that logistics company DHL will be their first training kit sponsor.
The 19-time English champions already have a shirt sponsorship deal with Aon, the American financial company, but DHL's branding will now be worn by stars like Wayne Rooney and Ryan Giggs during United's training sessions outside of European games.
United have not put a figure on the four-year deal, although reports suggest the club will collect £40 million over the length of the contract.