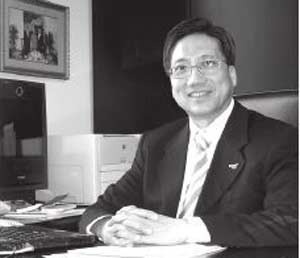 David Wong
SGGP has talked to Manulife Vietnam CEO David Wong about the life insurer's business. Excerpts:
Question: You once said: "Only after coming and staying in Vietnam, can I completely feel the true value of life insurance." What did you mean?
 
David Wong: Vietnam is still a developing country and most of its people still live under average living standards. They always face troubles in their life, such as sickness, accident or natural calamities, and obviously they need much protection against these. That's the main utility of life insurance.
 
Q:  Which characteristics of the Vietnamese people do you like the most?
 
Enthusiastic and optimistic about future, both for themselves and their country. Most of my Vietnamese colleagues are very smart, have inquiring minds, and especially, they always try their best to get what they want.
 
Recently, I made a trip to Ha Noi to hire new employees, but the suddenly it rained heavily and the streets became flooded. The traffic was stuck at that time, but I was very surprised when one of the candidates in my list could come to meet me in time. And I was more surprised when I learnt that he lives in a suburban area and had made a lot of effort to reach our meeting place. Those who always dare to face and overcome the obstacles and retain their high energy and enthusiasm for work, I believe they will always achieve success. That's why I hired that candidate without any hesitance.
 
Q: What are your comments on the work of Manulife during the last 9 years in Vietnam? Do the current achievements satisfy the target of the mother company? 
 
Established in Vietnam in 1999, Manulife is the first foreign insurance company arriving in Vietnam. At present, Manulife Vietnam has set up branches in most provinces of the country. As estimated, Manulife has grown by 60 percent in the first nine months of this year and ranks third in the domestic market with 11 percent of the market share. This result is much more than what we expected.
 
Our concept is to run for long-term benefits. This means to establish a solid foundation to develop safely for a long period instead of achieving some success in sales in the short-term. That's why we have also carried out some other businesses, such as fund certificicates and investing in the real estate market. We inaugurated a new office building with our name in Phu My Hung New Town in early 2007.
 
In addition, social welfare is another thing that we want to care for. Besides some charity programs and donations, our company plans to offer life insurance to poor residents in rural areas, aiming at protecting them against some risks in life. This program is a way to demonstrate humanitarianism and let everybody know the true value of life insurance.