The Hanoi-based Maritime Bank signed this week two credit agreements to provide VND1,450 billion for two companies to develop property and industrial projects in Ho Chi Minh City and neighboring Binh Duong Province.
Under the first agreement, the Hanoi-based bank will provide HCM City-based water company Waseco with VND700 billion (more than US$41 million) to develop the Waseco Plaza project in the city.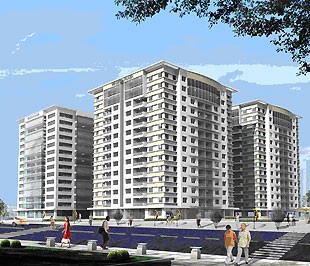 An artist's impression of Waseco Plaza. Waseco will develop the project with the Maritime Bank's funding.
The project, which will cover about 14,000 square meters in Tan Binh District, is designed as a complex of buildings of office and apartment, together with entertainment facilities.
The second deal, worth VND750 billion (over US$44 million), is for Becamex IDC Corp., a major property and industrial infrastructure developer in Binh Duong Province.
With the funding, Becamex IDC will build Bau Bang Industrial Park and the Binh Duong complex of industry, service and residence.
Bau Bang Industrial Park will cover over 2,000 hectares, with half for factories and half for urban development.
The Binh Duong complex of industry, service and residence will cover 4,300 hectares. Industrial parks will occupy about 2,000 hectares; another 900 hectares will house a golf course, horse race track, an area for trading, finance and banking services, universities and colleges, hospitals and clinics, and resorts.
The 1,000-hectare residential area in the complex will include offices, apartment blocks, dormitories and other facilities.
Other areas in the complex will be used for other purposes.
The Maritime Bank reported its January-September pretax profit at VND700 billion, up 127% from a year earlier. The performance is 15% higher than the year target, the bank said in a statement.
The bank said its total assets were VND48 trillion at the end of September, up 4.3% from the end of June.