Vietnam's Maritime Bank and British-invested insurer Prudential Vietnam on Jan. 20 signed a long-term cooperation agreement on bank insurance the bank is to supply its customers.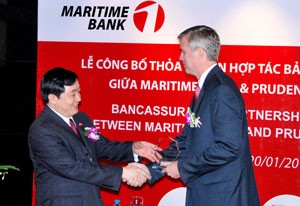 Maritime Bank CEO Tran Anh Tuan (L) shakes hands with Prudential Vietnam CEO Jack Howell during their partnership signing ceremony in Hanoi Jan. 20 (Photo: Yen Nguyen)
Under the deal, when the Hanoi-based bank provides consumption loans to borrowers, the lending will be insured by Prudential Vietnam.
The two sides are also set to launch soon insurance services for deposits at the bank.
Prudential Vietnam CEO Jack Howell said at the signing ceremony in Hanoi, "We hope our bank assurance will provide the best financial solutions for clients in Vietnam."
Maritime Bank said its 2009 pre-tax profits recorded a year on year rise of 132 percent to VND1.08 trillion.