After the Ministry of Construction allowed cement producers to increase prices last week, supply has increased and retail prices have eased in Ho Chi Minh City.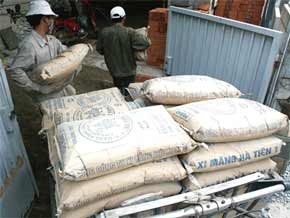 Cement carried to a retailer (Photo: Tuoi Tre)
Following an increase of VND4,000 per bag of 50 kilograms, the market price of Ha Tien and Holcim cement is VND75,000 per bag, or VND5,000-10,000 lower than last week, retailers said.
Hoang Thach cement and Cam Pha cement cost VND72,000-74,000 per bag.
Two months ago they had to wait for a month for supply, and this artificial scarcity drove prices up.
Cement distributors now supply 100-200 cement bags a week on average to each shop.
The Cement Association said over 200,000 tons of cement and clinker poured into the south from northern factories so far this month, causing a decrease in retail prices.

The Vietnam Cement Corporation is supplying an additional volume of 500,000 tons of cement per month. In addition, six cement factories with an annual capacity of 6.61 million tons, including Binh Phuoc, Phu Huu, and Long An, will open in southern provinces this year and in the first quarter of next year.