With Vietnam's household plastic goods market flooded with made-in-China products, the domestic industry is now trying to gain back home ground in recent years--although to reach new heights, local firms will have to make more improvements on their products.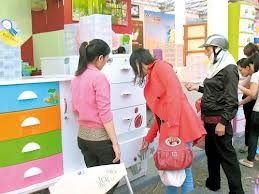 High-quality plastic products of Dai Dong Tien Plastic Company attract many consumers. (Photo: SGGP)
In the last ten years, Vietnam's plastic manufacturing industry has developed rapidly, with an average growth of 15-20 percent.
There are many kinds of plastic products, such as for packaging, household goods, construction and industrial plastic--but it is the household plastic goods sector that needs developing because of a constant and rising demand.
Earlier, the country's plastic industry mainly focused on producing goods for packaging, which is why the void was filled by made-in-China plastic products and which still holds majority of the market share.
However, the new belief that Chinese plastic products are unsafe has dragged down sales of Chinese products in the last few years. Seeing this as a golden opportunity, Vietnamese plastic companies have begun advertising and improving their product designs to draw consumers back to domestic-made products.
Currently, at big supermarkets like Co.opMart, Big C, and Metro, plastic products made by Dai Dong Tien, Long Thanh, and Duy Tan companies are holding more shelf space than imported plastic products.
According to a representative of Co.opMart, Vietnamese plastic products account for 90 percent of the total stock of plastic products at Co.opMart and are preferred by most consumers. Vietnamese plastic companies have gained in competitiveness as they have been improving designs and endurance of their products and do not sell recycled plastic products for safety reasons. Besides, they have also built new development strategies and offer their products at very reasonable rates.
Starting as a small cooperative with obsolete equipment, Song Long Plastic Company mortgaged its workshop to get the money for modern machinery and equipment. It restructured its manufacturing and did research to produce several products that were suitable for consumers.
Presently, there are more than 500 products under Song Long trademark which have been registered for trademark protection in Vietnam, China, and Laos. In order to expand their distribution network, the company employed around 55 general agents across the country.
Trinh Chi Cuong, CEO of Dai Dong Tien Plastic Company, said that his company established a distribution network of more than 700 stores nationwide and entered big supermarkets like Big C, Maximark, Co.opMart, and Vinatexmart to gain market share. In 2009, the company promoted advertising, improved its operations, and rebuilt its trade network. It is forecast that growth of the company will be at 40 percent with revenues touching around VND1.4 trillion.
Although they have succeeded in winning consumer confidence, made-in-Vietnam household plastic products have just broken into the common market segment while the high-class segment is being held by foreign trademarks.
At supermarkets and trade centers, various products which consumers currently have high demand for, such as food storage containers, and handy water bottles, are under Lock&Lock trademark. Despite higher prices, consumers with above average income prefer Lock&Lock products because of their light weight and modern and spectacular design. Lock&Lock now has 19 stores in Vietnam and is also promoting sales on television.
In 2010, Dai Dong Tien presented their first high quality food container Sina, which applied anti-bacteria technology nano-silver to provide longer freshness for foods. However, due to a shortage of capital, the company was not able to develop this product line. Up to now, most Vietnamese plastic companies are merely able to produce household plastic products, such as tables, chairs, buckets, and baskets. They have neither advertising strategy for each product line nor any plan to develop high-end products to compete with foreign-made plastic products.
On the occasion of its debut in Vietnam, Martin Skryja, representative of Elmich Group--a multinational group specializing in producing and trading high-end household products--said that Vietnamese plastic companies have not invested in production of high-class plastic products yet not because they do not have enough resources but because they underestimate demand for high-end products. Meanwhile, many foreign household producers have chosen Vietnam as their potential market for high-class plastic products.
According to distributors, the demand for high-quality household plastic products has increased in Vietnam and will rise by about 5 percent annually in the next few years. In order to avail this potential market, local firms must confidently invest in market research, machinery upgrade, strengthen creative ability, as well as foster advertising and distribution.