Poor purchasing power and high inventory has left several firms in turmoil and although many stimulus measures were launched, the market has not shown signs of recovery.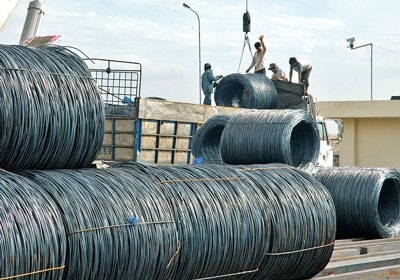 Many measures have been launched to clear steel inventory. (Photo: SGGP)
Directly affected by a long-lasting frozen property market, several companies dealing in construction material were agonizing over poor sale of merchandise. Many companies in steel, cement, and terracotta had to halt operations or cut production to avert losses.
According to the Vietnam Steel Association, steel production reached 260,000 tons in February, down 83,000 tons compared to the same period last year. Last month, consumption of steel was at 250,000 tons, a decrease of 153,000 tons compared to previous month and 139,000 tons year-on-year, raising steel inventory to above 320,000 tons, up 40,000 tons year-on-year.
Notably, although consumption was poor, the price of materials for steel manufacturing tended to rise in international market, whereas retail steel price was not able to climb, remaining at around VND16-18 million per ton. With the current production and consumption, most steel producers were running at a loss. Meanwhile, competition in this sector was expected to become more severe.
According to forecasts, there will be five more steel factories being put into operations this year with a capacity of 1.5 million tons annually, increasing the country's total steel production to 11 million tons per year, while real consumption was at around 5 million tons per year. A surplus supply will boost competition in the market.
Despite a surplus of steel in the local market, last year the country imported about 5 million tons of steel at a cost of US$5 billion, mainly from China, whereas steel exports merely touched 2 million tons, worth nearly $2 billion.
Nguyen Tien Nghi, deputy chairman of Vietnam Steel Association, said if consumption remains sluggish, many companies will halt operations as most of their working capital depended on loans. Just in February, four members of the association shut down while some others reduced capacity and operated perfunctorily.
Similarly, the Ministry of Construction said that consumption of cement was estimated at 3.7 million tons in February, accounting for 7.4 percent of this year's plan, and cement exports touched 0.52 million tons.
Cement market remained subdued though producers continued to offer 3-5 bags of cement for free on 100 bags of cement. According to plan, demand for cement will be around 56-57 million tons, of which cement for domestic consumption will be around 48.5-49 million tons and cement for export at 7.5-8 million tons.
However, in reality, most cement producers were running at 70 percent of capacity with factory delivery price swinging between VND1.4 million and VND1.7 million a ton. The Saigon Construction and Building Material Association said that besides steel and cement producers, ceramic, brick, and glass producers also cut production by 50-70 percent due to high inventory.
Although the first quarter of this year is almost over, purchasing power in the market remains weak as the economy is still in slump, urging consumers to become more cautious in spending.
At supermarkets and retail markets, only essential goods and fast moving consumer goods still saw strong purchasing power. Meanwhile, as for other sectors, though the promotional campaign for International Women's Day was not over, distributors still launched other promotional campaigns on thousands of products with a discount of upto 49 percent. In other words, at this time, most supermarkets had to do what it takes to clear inventory and reclaim their capital.
Director of a supermarket in Ho Chi Minh City said that purchasing power was never as weak as this year. This situation would likely persist to the end of the second quarter. The sole solution to stimulate consumption was to run promotional campaigns though many products had to be sold at breakeven price.
Bui Hanh Thu, deputy CEO of Saigon Co-op, said that as for slow moving consumer goods such as electronic appliances, refrigeration appliances, household appliances, clothes, and footwear, producers had to coordinate with distributors to seek effective solutions to boost consumption.
According to the Ministry of Industry and Trade, processed products were highly consumed in February but inventory index of processing and manufacturing sector marginally dropped compared to the previous month and the same period last year. The inventory index by February 1 of industrial processing and manufacturing industry climbed 19.9 percent year-on-year.
Among industries with high inventory index, sugar rose 28 percent; beer soared 49.9 percent; cigarette surged 49 percent; ready-to-wear clothing mounted 25.2 percent; clothes hiked 27 percent; footwear edged up 31.9 percent; and crumpled paper and packing paper increased 33.7 percent.